Ventura Gem & Mineral Society North Edwards Field Trip Field Trip, 2015

Chalcedony-agate collected at Clay Mine Road and colorfully banded travertine from the North Edwards area. Photo: Jim Brace-Thompson.
Date: Sat, October 24, 2015
Sponsor: Ventura Gem & Mineral Society (VGMS)
Organizer/Leader: Jim Brace-Thompson
(This is not a SDMG-sponsored field trip)
Contact: Jim Brace-Thompson, 805-659-3577 (home), 805-746-3598 (mobile) jbraceth@roadrunner.com
Anyone wishing to join this field trip is encouraged to to sign up in advance , so the organizer will know how many participants to expect and won't leave anyone behind. This also helps in case they need to cancel or modify the trip for any reason and need to contact you beforehand.
Collecting Area: North Edwards region. Site A: Clay Mine Road. Site B: Sierra Pelona Rock Club claim.
Material: Chalcedony Agate and Banded Travertine Onyx.
Tools: See Site A description below.
Meeting: 7:00 AM at the Jack-in-the-Box next to the Fastrip Gas Station at the southern edge of the town of Mojave. It's about a 2-hour drive there from Ventura, so plan to leave home around 5:00am. We're making an early start due to desert temperatures.
What to bring: Since we'll be in the desert, a brimmed hat, sunglasses, and sunscreen are a must, along with plenty of drinking water. It's a good idea to pack a lunch; although, North Edwards has a mini-mart, and plenty of places to eat may be found in the town of Mojave.
Directions: The general area is northeast of the Lancaster/Palmdale region. Both localities are approached from the Clay Mine Road exit from State Highway 58 at North Edwards, about 18 miles east of the town of Mojave. From East Ventura, take CA-126 approximately 38 miles. Stay straight to go onto Newhall Ranch Road, which becomes Golden Valley Road, and continue another 10 miles. Merge onto CA-14 N via the ramp on the left toward Palmdale and proceed 63 miles. Our meeting spot is at a Jack-in-the-Box next to a Fastrip gas station at the southern edge of Mojave before you hit CA-58. Jim will be in a black Honda Pilot with a rockhound sticker on the back window and will have sign-in/release waiver forms (required). Jim will also have samples of what's to be found at each locality.
From our meeting spot, turn right at the very first stoplight onto Mojave Barstow Hwy / CA-58 Business for 3.8 miles. Merge onto CA-58 E / Mojave Barstow Hwy E toward Barstow and proceed 15.2 miles. Take the Clay Mine Road exit (Exit 188) and turn left (north) onto Clay Mine Road. Site A is 2.2 miles from the Frontage Road after you cross over the 58 overpass. Pull off the road and park to the right just beyond a yellow curve sign. You'll see low red hills on both sides of the road. Site B is 6 miles beyond Site A, with a turnoff marked by four tires piled atop one another. Turn left there on a gravel road and proceed 0.3 miles. Jim will have hard copy maps at the Jack-in-the-Box meeting spot.
– What You'll Find and What You'll Need –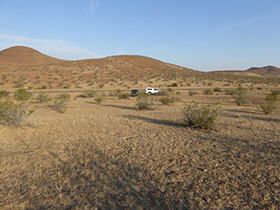 View of the Clay Mine Road locality where chalcedony-agate is found (Site A), one of the sites to be visited during the October field trip sponsored by VGMS. Photo: Jim Brace-Thompson.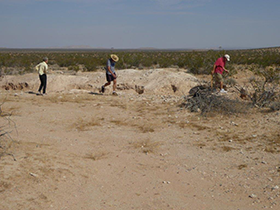 View of the North Edwards Travertine Onyx locality (Site B) to be visited during the October field trip sponsored by VGMS. Photo: Jim Brace-Thompson.
Site A. Red hills on both sides of Clay Mine Road are the remains of volcanic lava flows into which chalcedony agate was deposited in bubbles and vugs. You also can find occasional geodes, druse quartz crystals, and specimens of chalcedony and common opal in tubes, botryoidal, and other interesting formations. Much of the agate is pitted or fractured, but good pieces abound. The rare larger agates can be slabbed and cabbed and smaller pieces polish well as small cabochons or in rock tumblers. This is easy pickings: material is found as float right on the surface. All that's required is hiking up and down and around the hills and bending to deposit small (and occasionally large) bits of pale pinkish agate into your bucket or bag. Only rarely will you need to pry a piece loose from the dirt with the tip of a rock pick or screwdriver. This locality is most productive if you scour a small amount of territory thoroughly rather than rambling quickly over a large patch of hills. As soon as you spot one or two pieces of agate, stop, do a slow 360º pirouette, and examine every rock within view for any that have a pinkish glow. These agates capture the sunlight, which (along with the desert temperature) is why we'll be visiting the locality in the early morning with the sun low on the horizon. Jim reports that he had his best success here at sunrise or sunset looking for agates glowing on the ground.
Site B. Anyone wishing to remain and continue collecting agate may do so, but the official caravan will continue to the North Edwards Onyx locality for colorful banded Travertine Onyx, which is located a few miles up the road at a place sometimes called the "Aerial Acres" site. (Check out North Edwards Onyx in Mitchell's Gem Trails of Southern California.) This is an active claim of the Sierra Pelona Rock Club, where anyone may collect so long as they register and deposit info on what they've collected in a tin box to help the club maintain the claim. While you may find some nice pieces of travertine left on the surface from previous collectors, the best pieces require substantial labor. You'll need to dig deep with a shovel (Jim has a boulder in my backyard that I recovered from six feet down) and use large gads, chisels, pry bars, and sledgehammers along with thick gloves and eye protection. During a reconnaissance visit on September 12th, Jim and his group saw that pits had not been dug and worked for some time. Nearly all had significant amounts of earth slumped above the travertine layer. If you really want the good stuff, come prepared to dig deep, and bring rope to haul out any especially large pieces. The rewards are worth the effort. The travertine onyx is beautifully banded black, brown, white, red, yellow, and golden-brown, with some layers showing dendritic patterns. This soft material may be quickly and easily carved, crafted into spheres, and/or slabbed and cabbed to a fine polish. Have a rock hammer and water bottle to evaluate the pieces you find. Much of it has a drab tan crust, but knocking an edge off a corner can reveal colorful bands beneath.
– Other Nearby Opportunities –
Anyone wishing to avoid laborious digging at the Travertine locality might consider three other options. First, you could continue collecting all day at the Agate locality. Second, you might consider a tour of the Borax open-pit mine and Borax Visitor Center in nearby Boron, 10-11 miles east of N. Edwards on State Route 58, see: www.borax.com/about-borax/visitor-center. Third, consider visiting Brown Butte, approximately 8 miles east of the town of Mojave, where you can collect large amounts of chocolate-brown agate and occasional pieces of petrified wood, reed, and palm. Jim will have maps for this third option at the trip. Neither Boron nor Brown Butte will be part of the officially sanctioned/sponsored trip, so anyone heading to these other areas, does so on their own responsibility.