CHRISTMAS POTLUCK & ORNAMENT CONTEST – 2019

BALBOA PARK
Jennifer Stapp and Nita Sani, Potluck Chairs
Monday, December 16, 5:00–10:00pm
Casa del Prado, Rm 101
Who:
Everyone is welcome! Members, guests, kids, grandparents, second cousins, etc.
Where:
Room 101 in Casa del Prado (just across the street from the west entrance to the San Diego Natural History Museum). Look for all the rockhounds milling about.
What:
Food! Plus a Silent Auction, Door Prizes, and the Christmas Ornament Contest.
Bring:
A hearty dish to serve at least eight people. (Boy, do we have good cooks!) Something nice for a door prize, if you wish, to add to the ones the Society furnishes.
SDMG provides:
Ham, turkey, plates, plastic cutlery, napkins, cups, punch, coffee, hot water for tea, and a pie or two.


Decorating starts at 4:00 pm:

We do our own! Please come early to help deck the halls.


Dinner is served at 6:00 pm:

Remember, traffic and parking can be hectic, so plan to leave a little early and try to arrive by 5:00 pm. That way, we will be able to get the serving line set up and going promptly at 6:00pm this year. (No oven available.)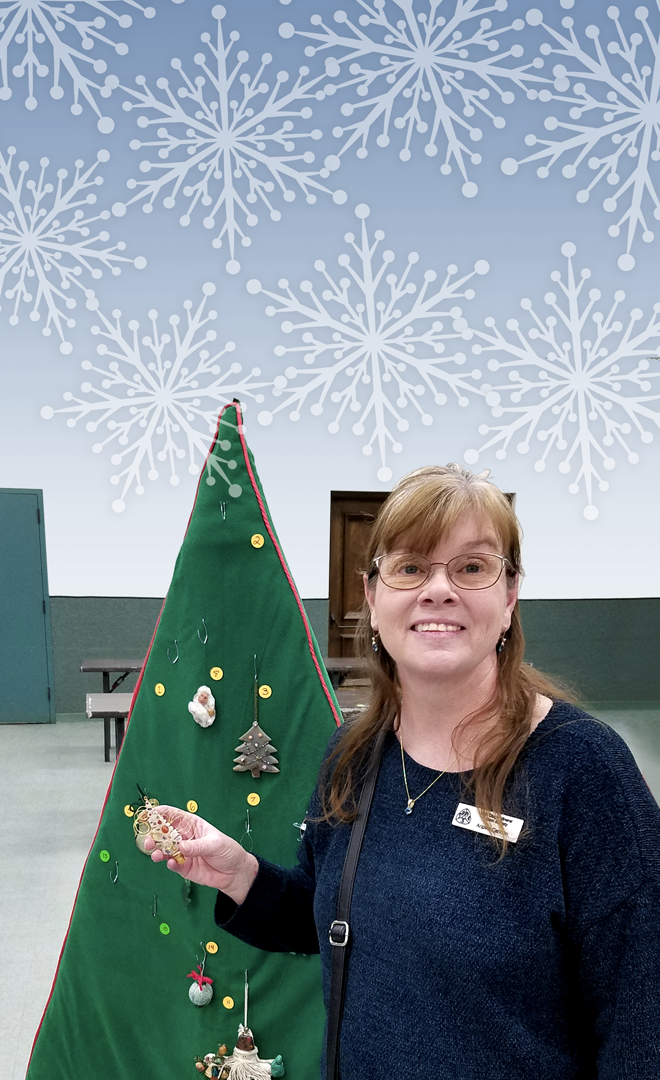 Let's all plan on having a great celebration.
The Christmas Potluck is SDMG's last event of the year. It gives us the chance to see friends we may not see otherwise during the holiday season. It's a chance to visit and reflect on the year past (boy, did it go by fast, or what?). We can muse about the year ahead and all the things we're going to do, places we're going to go. Oh, and it's a chance to enjoy a great feast prepared by our very own members. Come celebrate the season!
CHRISTMAS ORNAMENT CONTEST
Sharon Griswold, Chair
Every year since 1995 it has been tradition at the Christmas Potluck to deck our five-foot tall Yule tree made of felt with home-made ornaments made by our members. This is a ROCK Christmas Ornament Contest, so submit an entry that features elements that reflect what our Society is all about: beading, silver work, cabochons, chunks of fossil, fanciful desert roses, wire wrap, faceting, minerals, and, well, you get the idea. Go crazy—add some glitter, paint, wings, halos, gingerbread, and all the rest. Winner will be showered with prizes: First Place, $10; Second Place, $5; Third Place, $1. Now is the time for you to decide what you want to show this year, and hope it sweeps First Place.