IN REVIEW:
PALA CHIEF TOURMALINE MINE

By Jim Mellos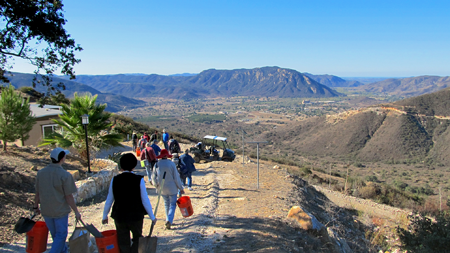 Had a total of 33 members and guests show at the meeting spot, after the usual sign-in paper work, off we went to the mine. We were met at the Pala Chief Mine by the Owner Jeff Swanger and his crew. After a brief tour and club photo the group was turned loose to explore and mine the hillside, which was larger than a city block. Within just a few minutes pieces were being found all over the hillside. I spent the entire day walking up, down and around the hillside on the many mining roads that cut through the site. Everyone who I ran into had found something—"I saw Aquamarine, Tourmaline, Kunzite, Morganite, lots of beautiful Quartz crystals."
The gem discoveries were being found in a variety of ways: many people were digging in the old mine dumps and sifting and washing the dirt, others were just digging, looking for larger pieces. Several people were actually going after the granite pegmatite with hammers and chisels, while others were hiking and surface collecting. Everyone was having a great time. I found several pieces just walking on the road.
In all ways this was a perfect trip. The weather was beautiful. The mining crew was very professional. They were all over the hillside helping out where they could, giving rides up the hill, taking people to the cars and the restroom, hauling gear and water. They really made it a great experience. My hat goes off to them—they're the best I've seen in 14 years on the job. At the end of the day, the mine Owner Jeff Swanger showed us his private collection. It was like being in a museum. He pointed out world-class pieces, one after another. It was quite a treat to end a perfect day.
A perfect Day at Pala Chief Mine.
(Hover over image to pause slide show; hover out to continue)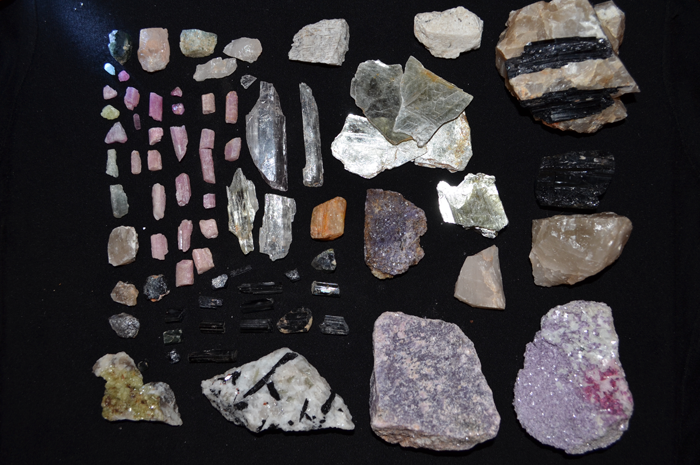 Lots of variety to show for a day's digging: Tentative IDs include, starting at the center, Beryl, var. Heliodor, to the left of center, a pair of Spodumene, var. Hiddenite (very light green), and above those a Spodumene, var. Kunzite (the largest being a very pale pink gemmy undamaged floater, 53 x 19 x 7mm, with only surface etching,) and a Spodumene, var. Triphane (colorless), and above that a nice grab sample of "graphic granite" (Feldspar w/ Quartz); then moving clockwise, some books of Mica, var. Muscovite (faint greenish to clear), a Microcline Feldspar, a quartz matrix with Tourmaline var Schorl, chunk of Tourmaline var Schorl, Hambergite (putative ID given color and creamy white), Smoky Quartz, three different presentations of massive Lepidolite with the one in the lower right a matrix with Cleavelandite, another Quartz matrix with Tourmaline, var. Schorl, a collection of Tourmaline, var. Schorl, mixed with a few very dark Tourmaline, var. Verdelite (opaque dark green), lower left corner bright green Mica, var. Muscovite, on matrix of Albite and Smoky Quartz; above that a collection of Tourmaline, var. Rubellite, several chips of Beryl, var. Aquamarine, upper left corner a very saturated, yet transparent Tourmaline, var. Verdelite (found by and given to me by miner and host Steve Carter), to the left of that, a nice chunk of gemmy pink Beryl, var. Morganite (found by and given to me by miner host Peter Renwick), then what seems to be bit of highly fractured cap of Tourmaline, var. Indicolite, and a pair of Petalite (putative ID based on vitreous luster with conchoidal fractures). Photo: Jake Schaible.