SDMG 85th Annual Banquet 2019

Jennifer Stapp and Melissa Ordway, Banquet co-Chairs
Saturday, March 16, 2019
Where:
Elijah's Restaurant
7061 Clairemont Mesa Blvd.
San Diego, CA 92111
Cost:
$35.00/person (see below for ticket information).
Adjustment Hour:
5:00 – 6:00 pm.
Light refreshments & coffee. No host cash bar.
President's Welcome:

6:00 pm
Scholarship Presentation:

7:15 pm
Program:
7:30 pm
"Carving Gemstones" by Meg Berry

Tickets available
thru Wednesday, March 13, 2019 from:
The Village Silversmiths' shop in the SDMG Building, 11:00am to 4:00pm daily
Email the Chairperson at: banquet@sdmg.org
Bob Hancock at his faceting classes on Wednesdays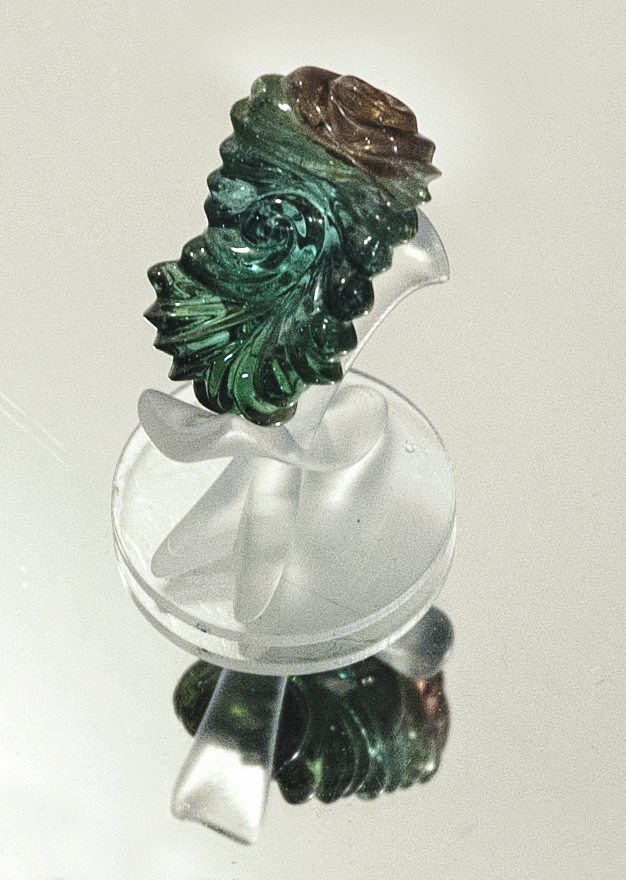 "Skittles," a fancy freeform carving.
Nigerian tourmaline, 147.02 cts.
Courtesty of Meg Berry.
SDMG's 85th Annual Birthday Banquet
It's time to celebrate SDMG's illustrious history at our 85th Annual Banquet. It has been a well-attended traditional gala for many years. We'll be honoring our own, including past presidents and members who teach, volunteer, or contribute in countless ways. The banquet is the event where we formally support students interested in geology and lapidary-gem-jewelry arts.. We'll formally award the 2019 SDMG Scholarships and enjoy a special program. This year, it will be an evening event held at Elijah's Restaurant, in San Diego.
One of our Banquet traditions is giving scholarships to college students who show the promise to keep our love of Gems and minerals alive in the community for the future. We will be presenting two scholarship awards to this year's young winners. Rachel Ness will be the recipient of the William Tirk Scholarship (Jewelry/Metalsmithing) and Mason Einbund will be the recipient of the Carmelita and Bern Swarts Scholarship (Geology). Congratulations to Julia and Scott.
The originally scheduled program for this year's event was a presentation on "Making Jewelry with CAD" by jewelry designer Larisa Zolotova. Due to a travel conflict, Ms. Zolotova had to cancel. We look forward to another opportunity to feature her presentation in the future. Happily, we have a terrific speaker who has agreed to step in; she is well-known and beloved in our community, our very own Meg Berry.
Program: Carving Gemstones
by Meg Berry
Meg Berry has been a master gem carver and faceter for more than 40 years. She studied under Bob Livingston, Sr. at the gem cutting school at Grieger's Inc. in Pasadena. She soon became his apprentice and was hired as a full-time employee. The experience shaped the rest of her life. Subsequently, she worked for a wholesale firm in Los Angeles as a gem cutter. She went on to study gemology at GIA. Later, from 1989 to 2003, she worked with Pala International Inc. as a full-time cutter. After Pala, she decided to pursue her dream of producing one-of-a-kind extraordinary gemstone creations using a combination of techniques that might include faceting, carving, frosting and piercing – sometimes all on the same stone. Her work is thematic, designed to elicit not only appreciation for the beauty of nature, but also an emotional response. Her pieces are organic, whimsical, pastoral, sometimes erotic, and always personal.
Meg Berry has taught many students over the years, and currently, she teaches classes at the Fallbrook Gem & Mineral Society. She has won acclaim, numerous trophies and awards, and she has garnered international contracts for her work. In 1992 she facet the largest of the rough emerald crystals that treasure hunter Mel Fisher salvaged from the Nuestra Senora de Atocha, the Spanish galleon that sank off the Florida Keys in 1622 laden with silver and gold bullion and Colombian emeralds. Meg has cut more than 100 "old mine" emerald crystals, providing a documented provenance from the lost cargo of the Atocha to the contemporary gems. During the construction of the GIA campus in Carlsbad, California, Meg was commission by the late Vince Manson to cut and polish the concept pieces of rocks and slabs that are placed in the naming plates outside each door of the building. Her work is in a class by itself, and her presentations are both informative and entertaining.