SDMG 83rd Annual Banquet 2017

Donna Beers, Banquet Chair
Saturday, March 18, 2017
Where:
Soledad Club
5050 Soledad Rd.
San Diego, CA 92109
Cost:
$38.00/person (see below for ticket information).
Adjustment Hour:
5:30 – 6:30 pm.
Light refreshments & coffee. BYOB – No alcohol available at the bar. Bring your own wine and beer and give to the bartender to serve per Soledad Club rules.
Program:
7:30 pm
"Gold!" by Dona and Wayne Leicht
Entertainment:
8:30 pm
Door Prizes, Raffle, live music and dancing.
Tickets go on sale Wednesday, February 1
available through Friday, March 10, 2017 from:
The Village Silversmiths' shop in the SDMG Building, 11:00am to 4:00pm daily
Board Mtg (Mon, Feb 20) & General Mtg (Mon, Feb 27) &
Donna Beers. Get your check to Donna for $38.00 (per person) made payable to "

SDMG

", along with a self-addressed stamped envelope, to 14735 Calle Diegueno, Rancho Santa Fe, CA 92091 (post-marked no later than March 6, 2017)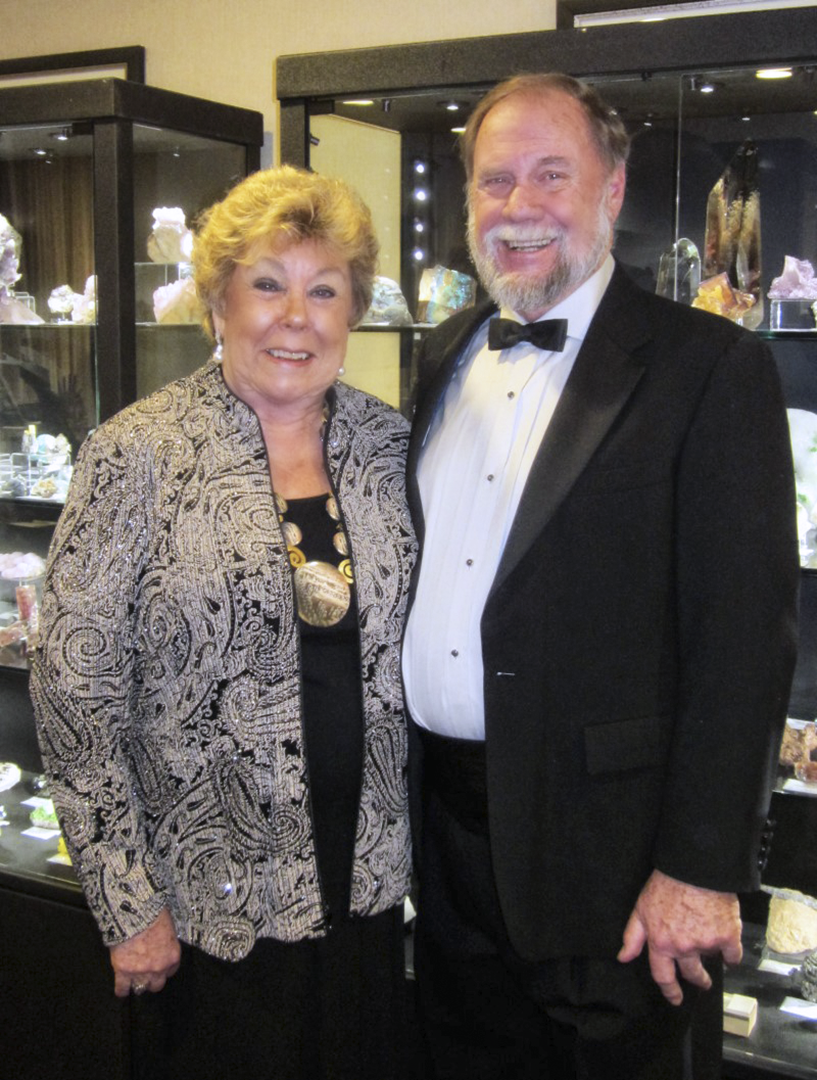 It's time to celebrate SDMG's illustrious history. This year's Annual Banquet marks our Society's 83rd anniversary. We will honor Past SDMG Presidents, formally award the 2017 SDMG Scholarships and enjoy a special program.
SDMG's 83rd Annual Birthday Banquet will be an evening affair held at the Soledad Club, in San Diego. It is located on a hillside overlooking San Diego's Mission Bay, so come watch the sunset and enjoy a magical evening with great food, entertainment, and prizes. This year, a very special program has been planned. Our Theme and Speakers will showcase Gold. In keeping with the glittering theme, we are looking forward to an elegant event. It would be nice for people to dress up, but it is not required. If you're not in the mood to go formal, be comfortable, but be sure to wear some of your jewelry creations.
This year, SDMG Honorary Members Dona and Wayne Leicht will be our honored guests. The Leichts are world-renowned collectors and dealers of fine mineral specimens, native gold specimens and rare antiquarian books. Their company KRISTALLE was established in 1971. It is known the world over for its natural history gallery, where visitors can learn about fine minerals and study and compare them. The Leichts have an international clientele which is a who's who of luminaries in the mineral world. They have provided specimens and appraisal/disposal services to most major natural history museums and many private collectors. Wayne will give a presentation on "Gold!" Wayne is an authority on this subject, and his talk will feature highlights from Kristalle's collection – past and present – of native gold specimens.
After the presentation, there will be live music and dancing courtesy of Kemosabe. Band (and SDMG) member Lee Bennett (vocals and drums) has toured with Hollywood A-Go-Go and played drums for Glen Campbell and The Four Tops. Band member Mike Truette (vocals and guitar) toured with and opened for Jefferson Airplane.
Every year the door prizes at the Banquet are amazing. Not only do we buy prizes, but our members donate beautiful pieces for the door prize gifts. We are asking members to donate cut gemstones, beautiful cabs, and finished jewelry for door prizes.
Join old friends and meet some new ones at the Soledad Club. All SDMG members and guests are welcome.