GEM DIEGO SHOW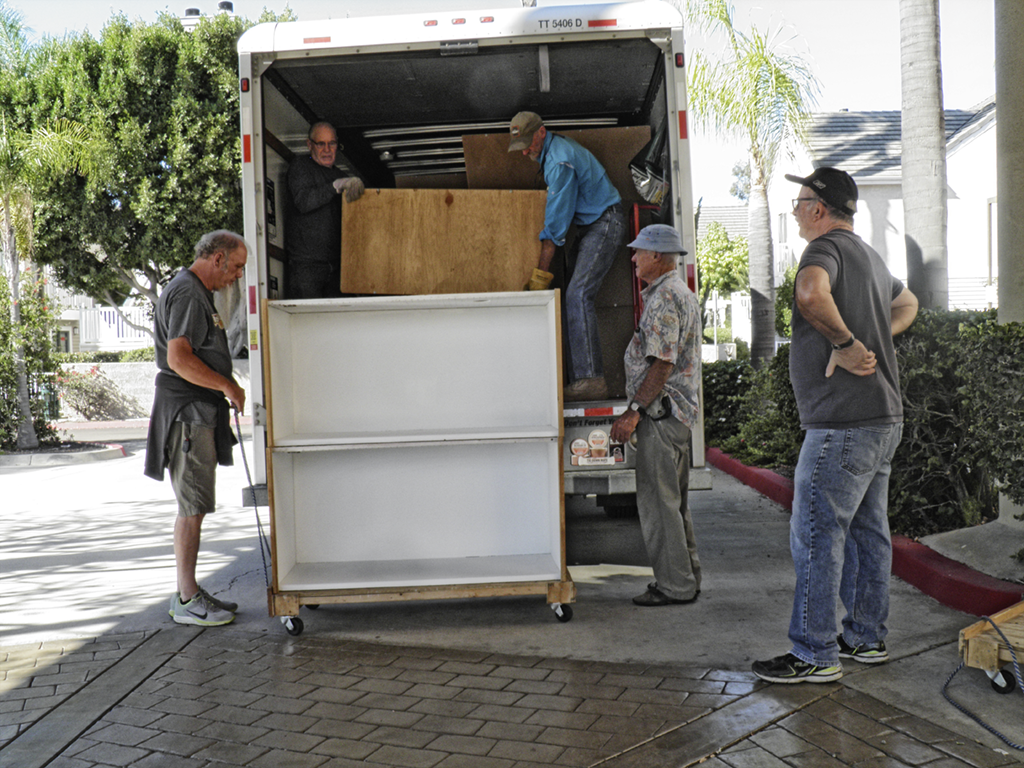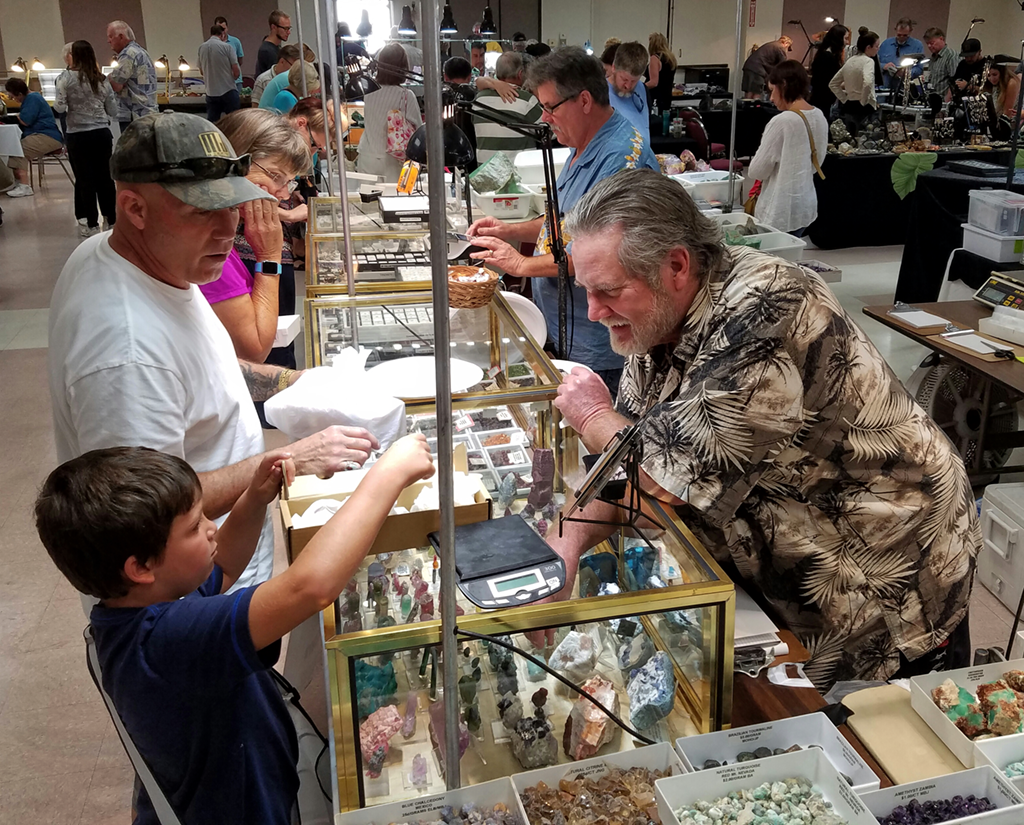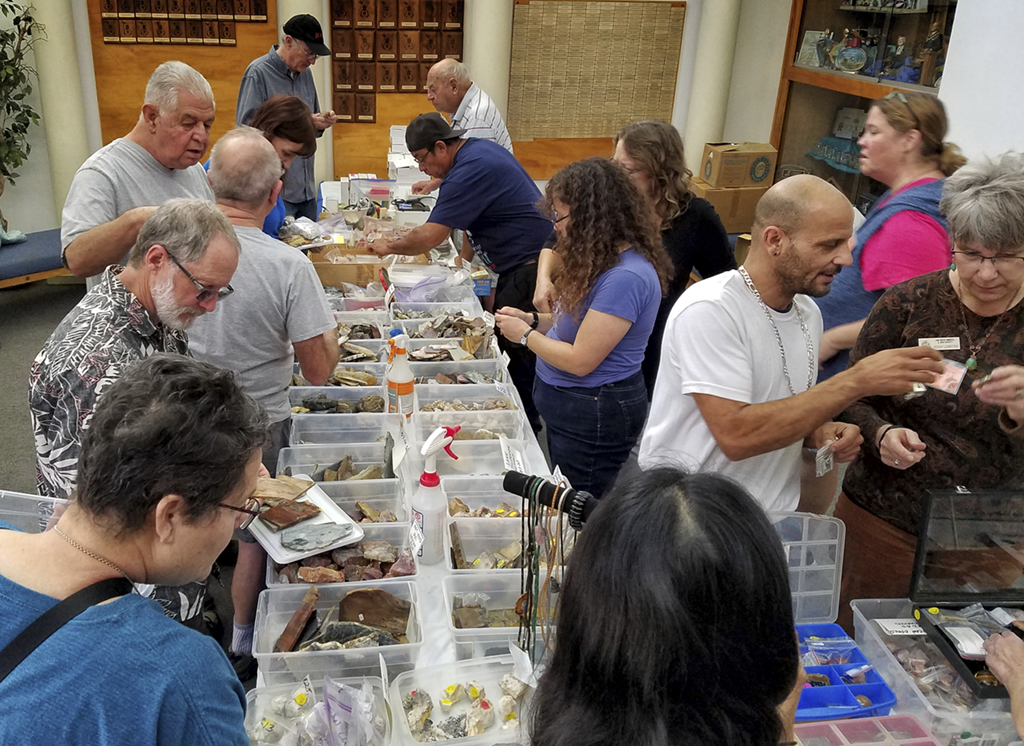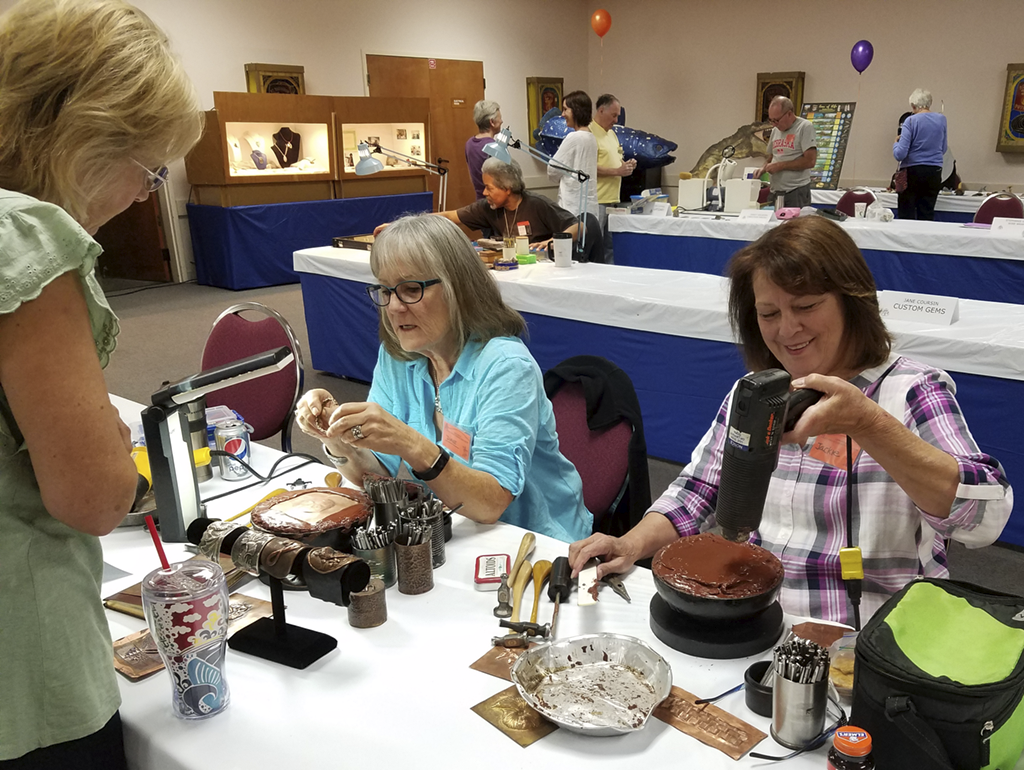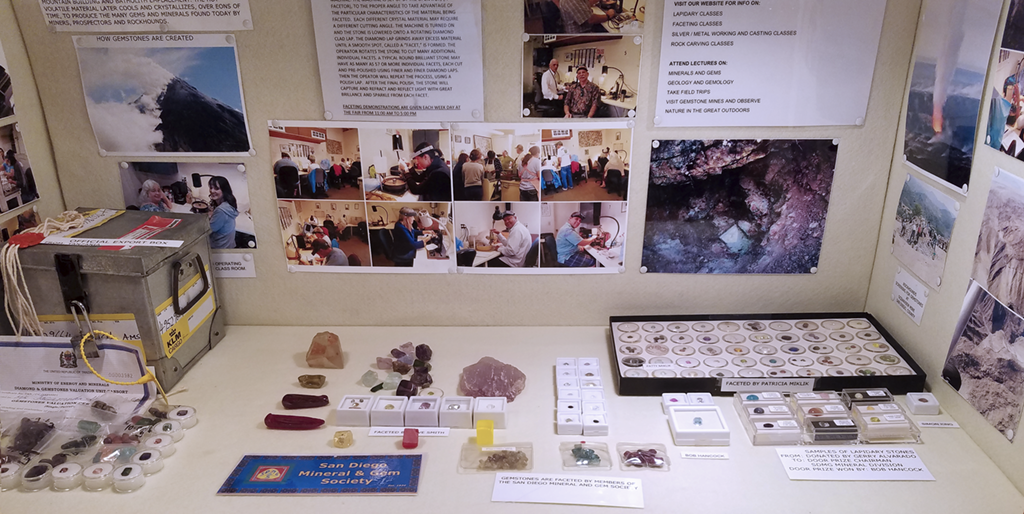 By Bob Hancock

Gem Diego Show Chairman
THANKS TO THE MANY PEOPLE who were involved in putting on the 2016 Gem Diego Show. It was a great success, both in terms of club member and dealer participation and in terms of items sold through the Club Booth. The many volunteers, whom we call "The Cast of Thousands," were directly responsible for making everything happen. The many individuals who signed up to work during show set-up and show breakdown, members who exhibited, members who demonstrated, and members who worked the show, worked security, made sales, sold door prize tickets, and finally, the members who preformed the myriad jobs necessary for the show, are the key to our success.
Looking around during show set up and breakdown, I saw workers busy everywhere doing all of the various and sundry jobs necessary to make it all happen. We had our lifters and loaders, pushers and pullers, table skirters and tapers all working in unison and on schedule to ready the exhibit case assembly and wiring.
Thanks to Jennifer Stapp, Tim Bickford and Peggy Leibitzke and many Volunteers who worked in shifts to staff our Club Booth. They sold some great bargain-priced treasures donated by members and loyal Club boosters. The Club Booth sales exceeded previous years records quite substantially. Anne Schafer staffed the book booth, which had a great selection of journals and hard-to-find publications.
During the show, our demonstrators worked at their stations, talking with visitors, explaining to them how we perform our various forms of lapidary, stone cutting, sphere making, rock carving, chaffing and repoussé or gem identification, or wire wrapping. Our resident geologist, Doug Peeler, was on hand to identify strange minerals. The Gemological Society of San Diego, provided free gemstone testing. It was a great opportunity for the public to learn about the gemological techniques and property tests used for gem identification. Thank you to Doug and GSSD.
Thanks to Angie Cannon, who presented an interactive junior science-geology and fossil program to provide basic earth science education to Juniors, as well as adults. Thanks to Lois Lukasky and Marvin Dillard, our Junior Booth was well stocked with low cost items for Juniors, and information was made available to kids on how to get started in lapidary hobbies. The Juniors' display case showed off what they learned in the Saturday class doing wire work and making cabochons.
Our Door Prize Committee, Gladys Walker and Simon King once again oversaw the raffle. They did a first-rate job with ticket sales.
A BIG thank you to Garry Cannon for taking over coordinating the dealers. This year our dealers attracted lots of visitors with great values to offer on a fabulous variety of minerals, gems, and jewelry, along with gem-mineral themed gifts perfect for getting an early start on holiday shopping. Lapidary and jewelry artists found loads of faceting, carving, and cabbing rough, and also tools and books. Thanks to our loyal Gem and Mineral Dealers who make Gem Diego the best gem and mineral show in San Diego:
The Rock Farm

– rock carvings, minerals, more

John E. Garsow Gems & Minerals

– minerals, fossils, facet rough

Prentiss and Dorothy Campbell

– faceting materials

Ariana Gems

– lapis lazuli & Afghan handcrafts

Joan's Collection

Vance Gems

– gems & fine jewelry

Hafid Aboubker – Moroccan Fossils & Minerals

Dragon Minerals

– minerals & lapidary

Majesta M A-Z Jewelry Supply

Gem Guru

– lapidary, gifts, more

Earth's Treasures

– fine minerals, gems

Eric Rose

Merk's Jade

Rock Geeks

– John Frey
I wish to thank all of the individuals who made this show possible, and express a hearty "well done" to "The Cast of Thousands."
The Jaguar Trophy
This award is presented by the Society President to the SDMG member who enters the most beautiful case of their own work in the club's annual Show. The award was conceived by Ron Willis, our English member, after he visited our show in 1987. He made the trophy for us using English walnut and marble. The first winner was Gloria Dunkel, in 1988, for her lovely channel work jewelry. The winner for 2016 was Jackie Leverone for her display case of metalwork featuring chasing and repoussé techniques.