SDMG 84th Annual Banquet 2017

Jennifer Stapp, Banquet Chair
Saturday, March 24, 2018
Where:
Elijah's Restaurant
7061 Clairemont Mesa Blvd.
San Diego, CA 92111
Cost:
$35.00/person (see below for ticket information).
Adjustment Hour:
5:00 – 6:00 pm.
Light refreshments & coffee. No host cash bar.
President's Welcome:

6:00 pm
Scholarship Presentation:

7:15 pm
Program:
7:30 pm
"Gems Behind the Lens" by Robert Weldon

Tickets on sale now
avail. thru Tuesday, March 13, 2018
by mail from Chairperson
Write a check for $35.00 per person payable to: SDMG
Send your check to:
Jennifer Stapp
PO Box 500536
San Diego, CA 92150
Write your phone number on your check.
Note your meal selection on your check: chicken cutlet, roasted salmon, vegetarian or vegan.
Include a self-addressed stamped envelope.
Tickets avail.
thru Tuesday, March 20, 2018 from:
The Village Silversmiths' shop in the SDMG Building, 11:00am to 4:00pm daily
Board Mtg (Mon, Mar 19)
MENU
Apps Station:
Italian brochettes
Spinach and feta triangles
Vegetarian crudites platters
Dinner
Caesar or house salad and rolls
Sautéed vegetables
Mashed Potatoes
Roasted Salmon filet
Chicken with a lemon caper and dijon sauce on the side
Vegetarian and vegan entrées
Drinks
Fountain drinks, tea and coffee station
No host cash bar for wine and beer
Desserts
Cheesecake squares
Birthday cake
SDMG's 84th Annual Birthday Banquet
It's time to celebrate SDMG's illustrious history at our 84th Annual Banquet. It has been a well-attended traditional gala for many years. It is our birthday party where we honor the hard work of our Presidents, past and present. We'll formally award the 2018 SDMG Scholarships and enjoy a special program. This year, it will be an evening event held at Elijah's Restaurant, in San Diego.
One of our Banquet traditions, which is a lot of fun, is the door prize giveaway. You're automatically entered with your purchase of a ticket for the Banquet. There also will be a special drawing for Banquet guests who attended a society meeting last year and filled out a green raffle ticket. (Winners must be present to collect their prizes.) This year, door prizes will feature faceted gemstones, and professionally finished jewelry pieces. There will be great items purchased at Quartzsite this year. Members donating items to the door prize table is another longtime tradition. This year is no exception.
One of our Banquet traditions is giving scholarships to college students who show the promise to keep our love of Gems and minerals alive in the community for the future. We will be presenting two scholarship awards to this year's young winners. Julia Schechner is the recipient of the William Tirk Scholarship (Jewelry/Metalsmithing) and Scott Knapp is the recipient of the Carmelita and Bern Swarts Scholarship (Geology). Congratulations to Julia and Scott.
Program: Gems Behind the Lens
by Robert Weldon
This year's speaker will be Robert Weldon, gemologist and well-known gem-mineral photographer. He is also Library Director at GIA's Richard T. Liddicoat Gemological Library & Information Center, in Carlsbad, California. Robert will take us behind the scenes to show some of the remarkable gems, minerals, and jewels he has photographed over the years. Weldon's photographs are published in scores of international gemological, jewelry and consumer publications, illustrating his own and other authors' articles, and in several books, including Splendour & Science of Pearls, which he co-authored and edited. Since 2008, his photographs have appeared regularly on the covers of GIA's professional journal, Gems & Gemology.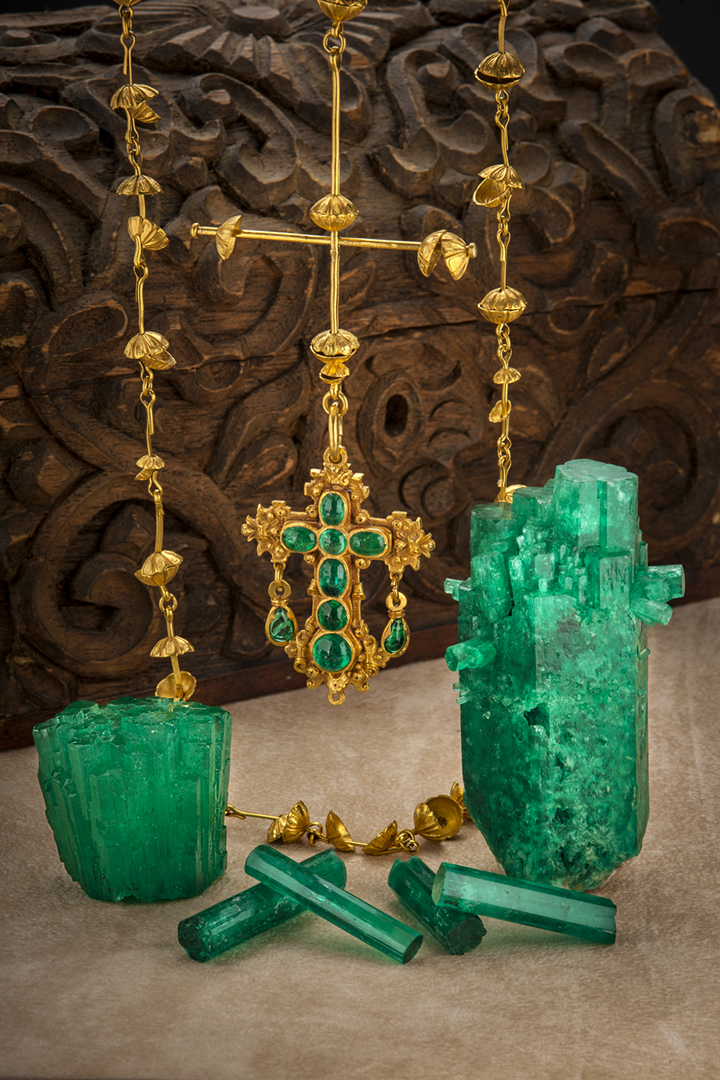 The cross pendant and chain shown here are part of the wreckage of the Nuestra Señora de Atocha, which sank in 1622 en route to Spain. Courtesy of Eileen Weatherbee. From left to right: a 422 ct emerald crystal from Cosquez, courtesy of Roz and Gene Meieran; a collection of elongated crystals from an unknown mine, courtesy of Ron Ringsrud; and the 982 ct Angel of the Andes (far right), one of the largest emerald finds from the Chivor region, courtesy of Roz and Gene Meieran. Photo by Robert Weldon/GIA.