THRITEENTH ANNUAL SINKANKAS SYMPOSIUM – OPAL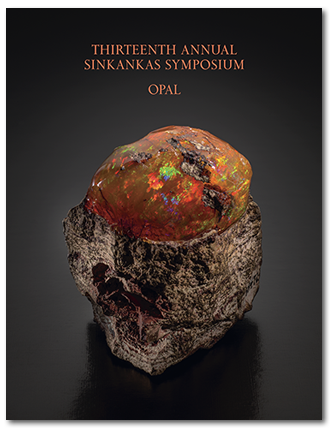 Thirteenth Annual Sinkankas Symposium - Opal, Stuart Overlin, Ed. Publisher: Pala International, Inc. Cover photo: The "Harvard Opal," a Mexican opal in rhyolite from the Iris mine, Hacienda Esperanza, in Querétaro. The Mineralogical and Geological Museum, Harvard University, received this specimen as a donation from James Garland in 1892, facilitated by George Frederick Kunz. It measures 7 × 6 cm and is the finest opal in the museum's collection. Photo by Robert Weldon/GIA, courtesy of the Mineralogical and Geological Museum, Harvard University.
As in previous years, Roger Merk organized the event, and GIA's World Headquarters at the Robert Mouawad Campus in Carlsbad was the venue, with GIA once again co-sponsoring with the Gemological Society of San Diego (GSSD). At GIA, Dona Dirlam, Carol Moffat, Veronika Janis, and Dr. James Shigley helped coordinate event logistics and advise on the program. Their contributions this year helped to burnish the reputation of the gem-mineral themed symposium honoring John Sinkankas. The GSSD volunteers who handled registration and event preparation did a terrific job: kudos to Jim Porter, Anna Gerhart, and Garry Cannon. Si and Ann Frazier deserve special mention for their continued support. Pala International president Bill Larson, who has been the Sinkankas Symposium's biggest booster every year, made invaluable contributions, helping Roger Merk ensure that Opal shall have been one of the best gem-mineral themed symposia in 2015 and one of the best in the Sinkankas series.
The Opal theme this year attracted a sell-out crowd, with more than 185 attendees absorbing a copious amount of information on a wide range of topics concentrated into 12 presentations. Keynote Speaker Dr. Eloïse Gaillou, who is the newly appointed associate curator of the Paris School of Mines, laid the foundation for the day's proceedings with a presentation on the mineralogy of opal. Dr. Raquel Alonso-Perez and Alan Hart respectively, gave overviews on Opals in the collections of Harvard University, Cambridge, and the Museum of Natural History, London. For true Opal aficianados, Renee Newman and Helen Serras-Herman showed that there's a whole lot more to love beyond the familiar repertoire of phenomenal precious Opals. They covered what seemed to be myriad varieties of Common Opal and Matrix Opal, showcasing an extraordinary range of colors and patterns. Locality-specific talks on Australian and Mexican Opals were given by Andrew Cody and Jack Hobart, respectively, with Cody highlighting Fossilized Opals. Bill Larson showcased some fine Opal specimens from his own collection past and present, imparting a lifetime of collecting experience and insights in a lively talk. Meg Berry demonstrated her mastery of carving, revealing how she elicits Opal's phenomenal beauty through her singular creative artistry. Robert Weldon found unique angles and useful tips to share about photographing opals. Assuming John Koivula's "microWorld" brand identity and his mantle in photomicrography, Nathan Renfro presented a visually stunning tour of Opal viewed through the microscope. Dr. George R. Rossman gave the last talk, making intelligible the complex and fascinating nature of color in Opals. He concluded the proceedings with comments on some of the presentations made earlier in the day. For the expertise and range of topics covered at this year's symposium, the program on Opal underscored why this gemstones enjoys such great esteem.
Most of the lectures are published as articles in the companion book for the Opal Symposium. Dr. Alonso-Perez's article is co-authored with Jason Tresback and Theresa Smith. Si and Ann Frazier offer perspective on opal's history and mythology in "Opal: Lore, Lies and Misinformation." They also provide a bibliographic reference on opal literature, which complements Dr. Shigley's contribution of articles about Opal localities. GIA's Stuart Overlin took over from Lisbet Thoresen (feldspar, diamond, ruby rev edn., and peridot) as volume editor of the Opal book. Working together with designer Faizah Bhatti and production coordinator Juan Zanahuria, the GIA team produced a handsome perfect-bound 120-page book featuring 150 color plates. Principal contributing photographers are Robert Weldon, Pala International's Mia Dixon and Jürgen Schütz, president of Emil Weis Opals. This volume is a must-have in the library of anyone interested in the Sinkankas Symposium series or in Opals.
For information on ordering the book and to learn more about the Sinkankas Symposium, visit the official website at: www.sinkankassymposium.net