GEM DIEGO SHOW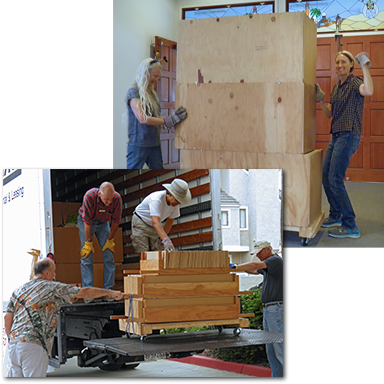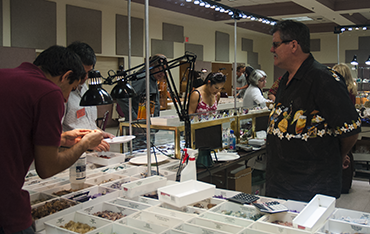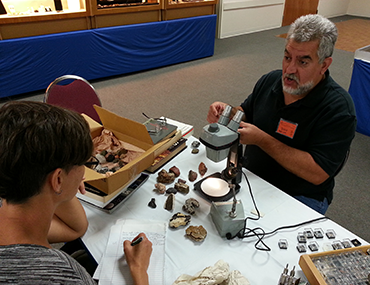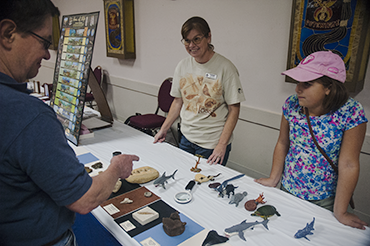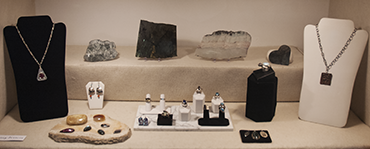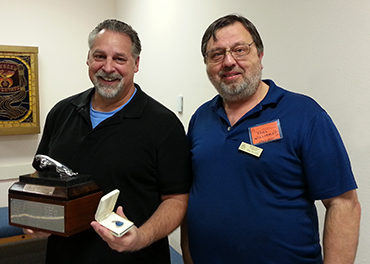 By Bob Hancock

Gem Diego Show Chairman
THE 2015 GEM DIEGO MINERAL and GEM SHOW was an outstanding success this year, despite a number of setbacks which could have dampened the spirits of a less optimistic group. However, we were able to overcome most of the major obstacles, thanks to the efforts of many of our most industrious and physically strong and active members.
A broken elevator, no problem. Al Bahr Shrine Center's elevator to the second floor was broken and would not be fixed in time for the show. We held the usual emergency meetings and considered our options.
What to do with the show coming up in just a few days? There was no time to consider moving to a different venue. Our advertising was already set and published. We could not cancel the show, as our important vendors were scheduled, and those coming from great distances were already on their way. We considered using only the first floor and canceling the exhibits and demonstrators, but as they are the main purpose for holding our shows in the first place, that would not work either.
A unanimous decision was made to go forward with the show. We would need strong workers to move the display cases and equipment up the flights of stairs to the second floor. It would take time and great effort for everything to be toted up the steps by hand, or lifted onto the backs of our volunteers, who in actual practice, did resemble a train of porters on safari packing across the Serengeti plain.
Our success is most certainly attributed to our Volunteer workers who showed unusual strength and determination in putting this show together. They are our "Super Heroes" – the lifters and loaders, packers and movers, table skirters and security personnel, who worked in concert and unison, to put the show together. A special shout out goes to Anne Schafer, who did double and triple duty, and to our Truck Driver Wayne Moorhead who rolled it all in and then took it all away. Thanks to Advertising Executive Rich Yarborough and our Sign Manufacturer Mike Harlow, who helped publicize the show and then worked the show.
Thanks to Jennifer Stapp, Tim Bickford and Peggy Leibitzke and many Volunteers who worked in shifts to staff our Club Booth. They sold some great bargain-priced treasures donated by members and loyal Club boosters. Our Door Prize Committee, Gladys Walker and Simon King once again oversaw the raffle. They did a first-rate job with ticket sales. Anne Schafer staffed the book booth, which had a great selection of journals and hard-to-find publications.
A BIG thank you to Garry Cannon for taking over coordinating the dealers. This year 13 dealers attracted lots of visitors with great values to offer on a fabulous variety of minerals, gems, and jewelry, along with gem-mineral themed gifts perfect for getting an early start on holiday shopping. Lapidary and jewelry artists found loads of faceting, carving, and cabbing rough, and also tools and books. In short, there was something for everyone. Thanks to our loyal Gem and Mineral Dealers who make Gem Diego the best gem and mineral show in San Diego:
The Rock Farm

– rock carvings, minerals, more

John E. Garsow Gems & Minerals

– minerals, fossils, facet rough

Prentiss and Dorothy Campbell

– faceting materials

Ariana Gems

– lapis lazuli & Afghan handcrafts

Joan's Collection

Vance Gems

– gems & fine jewelry

Blakeman Minerals

– minerals & gifts

Dragon Minerals

– minerals & lapidary

Majesta M A-Z Jewelry Supply

Gem Guru

– lapidary, gifts, more

Earth's Treasures

– fine minerals, gems

Kluey's Gems

Rock Geeks

– John Frey
Lois Lukasky and Marvin Dillard led their Volunteer crew in the Junior Division, along with Parents to staff their own selling table, and they had an exhibit of their own work. This year their display showed what they learned in the Saturday class doing wire work and making cabochons.
We had some great demonstrations from the pros in our Club, with Paul Williams, John Kruzec and David Lipson taking turns demonstrating sphere-making; Rich Yarbrough demonstrating metal working techniques; and Jackie Leverone and Diane Hall, demonstrating chasing and repoussé. Special thanks to Angela Cannon and her niece Ellie, who set up a new educational exhibit designed especially for kids of all ages to learn about minerals and fossils. The exhibit gave them the opportunityto handle real specimens.
Our very own Doug Peeler, who is a geologist, identified minerals for the general public, while Cathy Davis and our sister organization, the Gemological Society of San Diego, provided free comprehensive gemstone testing. It was a great learning opportunity, too – with Doug explaining the techniques used to identify minerals and GSSD explaining the gemological techniques and property tests used for gem identification. Thank you to Doug and GSSD.
The Jaguar Trophy
This award is presented by the Society President to the SDMG member who enters the most beautiful case of their own work in the club's annual Show. The award was conceived by Ron Willis, our English member, after he visited our show in 1987. He made the trophy for us using English walnut and marble. The first winner was Gloria Dunkel, in 1988, for her lovely channel work jewelry. The winner for 2015 was David Lipson for his display case filled with spheres.
And now, a question: "Why do we do it?" For profit? No! In putting the show on each year, we actually realize a very small profit after expenses are paid. We put the show on for the intangible benefits of, public relations and for advertising our programs to the world and for recruitment of new members. And, most important of all, we do it to provide a venue for our exhibitors and demonstrators to display their work and their talents and to give the public a glimpse of some of our many activities. Together, we make it all happen. Thank You, to All Volunteers, to Our Dealers, and a special thank you to Exhibits Chairperson Ellen Riceman who rose to the logistical challenges with aplomb.