SDMG's ANNUAL OPEN HOUSE AT DECEMBER NIGHTS (CHRISTMAS ON THE PRADO) 2018

BALBOA PARK
Reviewed and photographed by Jim Parrish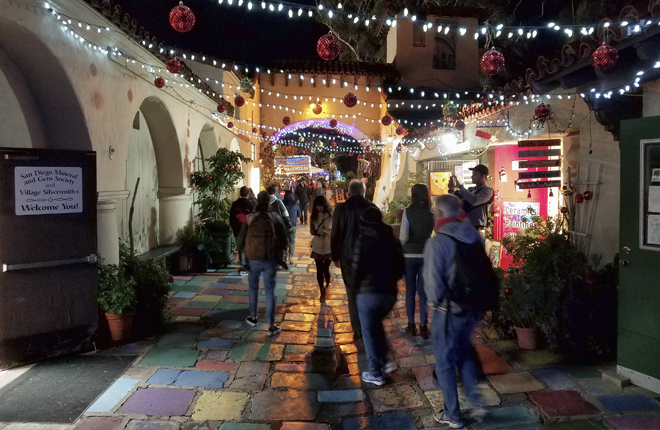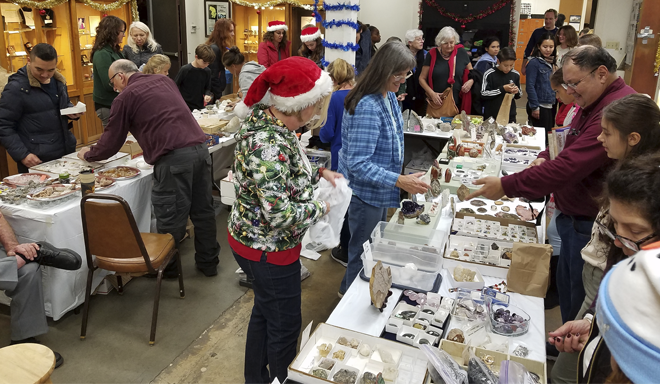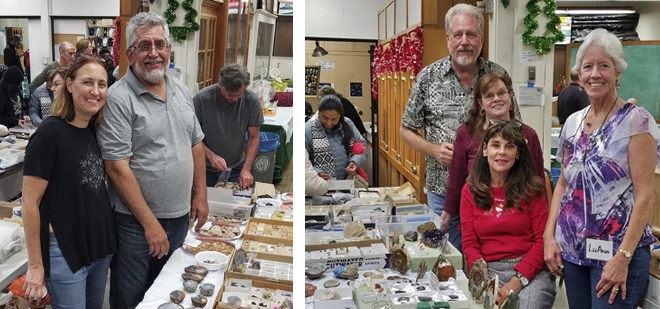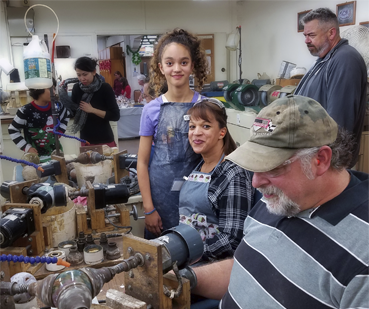 Well, it was another fun and successful event this year. I am sure most of you have experienced "December Nights," the annual holiday celebration at Balboa Park. If not, you need to! Our Society's museum and shop area were very busy with visitors and customers. They were three and four deep waiting to get in on the bargains. We had a waiting line for the opening on the first day.
This event starts weeks before with a thorough cleaning of the Museum and its display cases, along with many hours of organizing and pricing the donated material that were going up for sale at the event. This was accomplished by Angela and Garry Cannon, along with Jim and Sally Parrish. The day before the event everything was set up and arranged on the selling tables. I want to thank Mike Harlow, Wayne and Peggy Leibitzke, LuAnn Benton, and Sally Parrish for helping with this. It's a lot of work!
The Museum was decorated (thanks to the decorators) and the potluck food area had plenty of eats, including Paul Williams' infamous chili. Thanks to all those who brought food to share. It was really good!
Dave Smith and Doug Peeler, with help from Nancy Brescia and Rocio and Alan Bergum, sold items to benefit our junior group. The remainder of the booth was run by an incredible and fun group that included Letty Evans, LuAnn Benton, Nita Sani, Kerry Stone, Donna Casey, Nancy Brescia, Rocio and Alan Bergum, Angela Cannon and Jim Parrish. Everyone worked hard into the late hours of Friday and Saturday.
All the hard work was very fulfilling after seeing the thousands of smiling faces and amazing Christmas spirit from everyone – our members and the visiting public.
The December Nights Open House wouldn't be possible without all the generous donations we receive on a continuous basis. Just before the event we received a nice donation from the Hesse Family of Whittier, California. They donated some beautiful large quartz specimens for use in our sale. Also, I must mention the annual donation of a 50 lb. box of large tumbled stones from Herb and Mary Walters of Ramona.
Our shop area was kept open by numerous volunteers which included Paul Williams, Dave Lipson, Denny Turner, Bob Hancock, and Rich Yarbrough. I probably missed a person or two. If I did, I apologize, and thank you for your time and effort, which made SDMG's Open House a great success this year.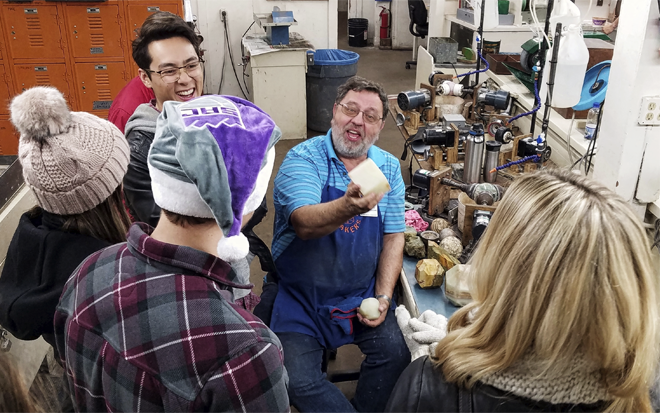 Please consider donating some of your collection or time to this or other events in the coming year. I guarantee you will enjoy yourself.
Happy New Year.