SDMG Field Trip 2014: Lakeview Mts (pegmatite minerals)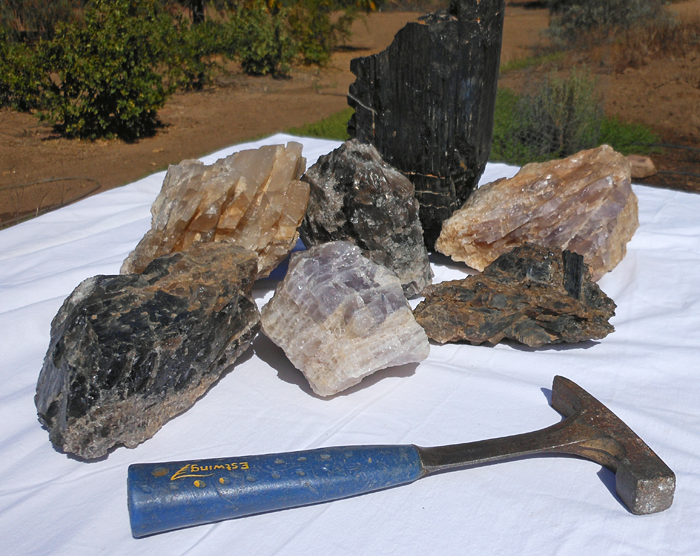 Pegmatite minerals from Lakeview Mountains. Photo: Forrest Nelson.
Date: Sunday, October 12, 2014.
Destination: Lakeview Mountains pegmatite district, Riverside Co., 80 miles north of San Diego.
Organized by: Forrest Nelson
Contact: fieldtrips@sdmg.org
Reservations: Forrest needs to know who is coming, and he needs to be able to contact you about last-minute changes of plan. Email Forrest if you want to go.
Material: Surface collect or excavate colored Quartz shards and fragments, and also Schorl.
Meeting place: 7:45am, Pala Park & Ride, (corner of Interstate Highway 395 and Highway 76, exit I-15, 76 West).
Liability Waiver: We'll observe AFMS Code of Ethics and sign assumption of risk waiver of liability.
Vehicles/Carpool: 2-wheel drive with ground clearance okay.
Departure: 8:00am sign-in, arrange carpool/caravan; the group leaves at 9:00am.
Arrival: 9:00am. Hike 1/4 mile at 2000-foot elevation.
Equipment: Bring hand tools, including rockhammer, pick, shovel, rake, trowel, gloves, spray bottle, wisk broom, dust mask, rock bucket.
Tote: Backpack in a sack lunch, extra water, camera, hat, sunglasses, sunscreen, boots.
Weather: We are planning on nice weather, but be prepared for changeable weather.
Safety: Do not lick the rocks, stay away from rattlesnakes, use bug spray, be aware of flash floods, be extra careful, team up with a buddy and don't get lost.
REMINDER: Please obey all BLM rules, stay on designated roads and stay away from snakes. Please help preserve the natural environment and pack out what you pack in. Let's leave it clean for future Rockhounds.