CALENDAR OF EVENTS
CALENDAR OF EVENTS
SEPTEMBER
2019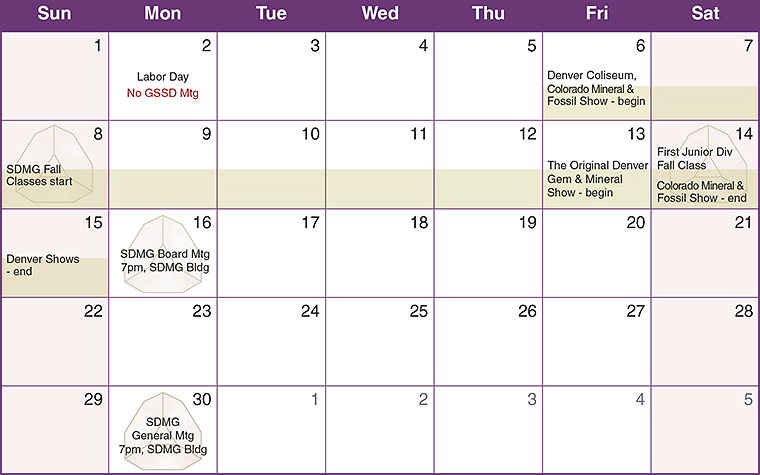 I. SDMG & GSSD Meetings & Events
Mon, Sept 16, 2019 – SDMG Board Meeting, 7pm, SDMG Bldg.
Mon, Sept 30, 2019 – SDMG General Meeting, 7pm, SDMG Bldg
Shows and events held through October 2019 appear in
The Pegmatite (September 2019)
Membership renewals and new apps due NOW. Download a membership application »
or Renew online – Details »
II. On the Go… To a Show & Other Events
Ongoing San Diego, CA – San Diego Natural History Museum: "The Nat" [exhibition]
Hidden Gems
I. and II. All Meetings, Events & Shows
Ongoing SAN DIEGO, CA– Hidden Gems [exhibition]
San Diego Natural History Museum
Balboa Park
1788 El Prado
San Diego, CA 92101
Admission: Members FREE; Adults $19.95, Seniors (62+)/Military (ID)/Students $16.95, Children 3– 17 $11.95, Kids 2 and under Free.
Hours: 10am – 5pm daily. (CLosed Thanksgiving and Christmas day.)
Website: www.sdnhm.org/exhibitions/hidden-gems/
The Nat shows some extra sparkle with an exhibition featuring 100 gem-mineral treasures from the permanent collection. Dr. Terri Ottoway, who is the museum curator for the Gemological Institute of America (GIA), in Carlsbad, provided curatorial guidance on the selection of items. The unique vertical exhibit was designed by the Nat's in-house Exhibits team and is arranged across all five floors of the Museum's northwest corner. Access to the exhibition is included with admission and free for members.
Mon, Sept 30, 2019 SAN DIEGO, CA – SDMG General Meeting
Venue: SDMG Bldg.
Spanish Village, Balboa Park
Time: 7:00pm.
Admission and Parking: Free. Public Welcome.
SDMG President Jim Parrish presides over a "Fall Social" for the first meeting of the fiscal year. This is a "Show 'N' Tell" opportunity to bring treasures you discovered over the summer.
The club will supply coffee, tea, and punch.