CALENDAR OF EVENTS

November
2023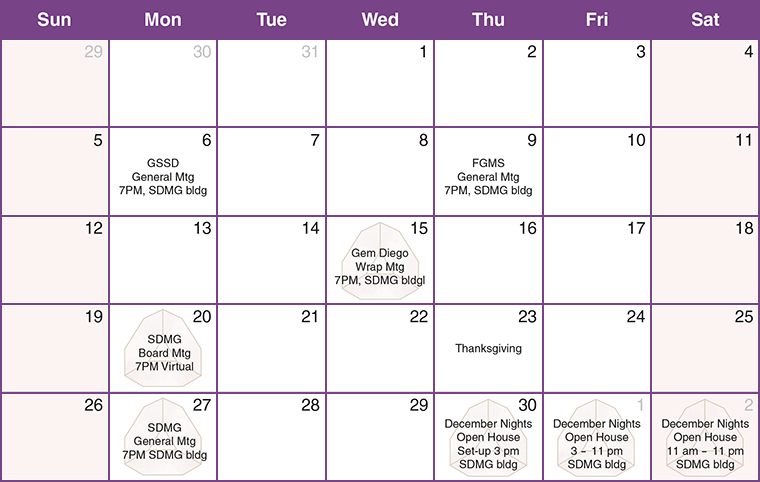 I. SDMG & GSSD Meetings & Events
Mon, November 27, 2023 – SDMG General Meeting, 7PM, SDMG Bldg.
Fri & Sat, December 1&2, 2023 – December Nights, Fri 3 to 11 PM, Sat Noon to 11 PM, SDMG Open House
Shows and events held through the end-of-year 2023 appear in
The Pegmatite
Join the SDMG mailing list to receive regular e-Newsletters with a link to the bulletin
I. and II. All Meetings, Events & Shows
Mon, November 27, 2023 SAN DIEGO, CA – SDMG General Meeting
Sponsor: San Diego Mineral & Gem Society
Venue: SDMG Bldg, at the back of Spanish Village in Balboa Park, San Diego
Hours: 7:00 PM
Admission: Free. Open to the public.
Parking is limited behind the SDMG Bldg, so it's first come, first served. Look for additional parking in the Carousel parking lot near Park Blvd. or in the Zoo parking lot.
Our guest speaker will be Richard Edley, who will give a presentation on Gem Mineral Prospecting: S. California & Australia. Richard and his son Bruce have been prospecting and mining in the Southern California Desert for 20 years. They own two federal mining claims near Barstow, California, which have produced gold, silver, turquoise, and azure malachite. The presentation will be about their experiences prospecting and mining in the Southern California desert, their discovery of emeralds in the Julian Mining District, California, and opal and turquoise in Australia. Articles about these discoveries have been published in Gold Prospector and GIA's Gems & Gemology. We'll have refreshments and door prizes. By all means, please bring something to share at the refreshment table. Everyone is welcome and we hope you'll have an enjoyable time.
Sat & Sun, December 2 –3, 2023 BARSTOW, CA – Mojave Desert Gem & Mineral Show
Sponsor: Mojave Desert Gem and Mineral Society
Venue: Cora Harper Community/Fitness Center
841 Barstow Road, Barstow, CA 92311
Hours: Daily 10 AM – 5 PM
Contact: John Printz 760-979-6138, MDGMSsecretary@gmail.com
Web: mdgms.net