GEM DIEGO SHOW

By LuAnn Benton

Gem Diego Show Chairman
Where:

Liberty Station Conference Center


2600 Laning Road, San Diego, CA 92106
Directions»
When:
Saturday, October 28, 9:30 AM – 5 PM
Sunday, October 29, 10 AM – 4 PM
Admission & Parking:
Free.
THIS YEAR WILL BE THE FIRST GEM DIEGO SHOW SINCE 2017! We are delighted with the new venue. The Liberty Station Conference Center is located in the Point Loma neighborhood that was formerly a naval station. The picturesque harbor setting is a popular tourist destination with shopping, great restaurants, and an artists' district.
EXHIBITORS and DEMONSTRATORS, BUYERS and SELLERS, now is the time to start preparing for San Diego's best Gem & Mineral Show – Gem Diego. It will feature high-quality Gem and Mineral Dealers selling gemstones, minerals, beads, jewelry, lapidary equipment and supplies. Demonstrations in years past included Wire Wrapping, Faceting, Lost Wax Casting, Silver Chain Making, Intarsia, Sphere Making. Gemstone Identification will be provided free of charge, and there will be door prizes and a raffle.
We will need a small army of Volunteers to make Gem Diego a success. (We have a reputation to live up to!) Please have a look at the list of activities below, and pick one or more that you can lend a hand with. Email LuAnn to let her know you are interested in participating. (Click here for more information on Volunteering.)
Gem Diego is a fun show. You'll learn a lot, see a lot, and get the chance to visit with friends. You'll be proud of your club and amazed when you see how beautiful YOUR show turns out. Even though the show is months away, we need to get busy now with preparations and ensure that the event will be well-staffed to set up the show on October 27th, cover the floor during the show on the 28th and 29th, and then break it all down on the afternoon of the 29th.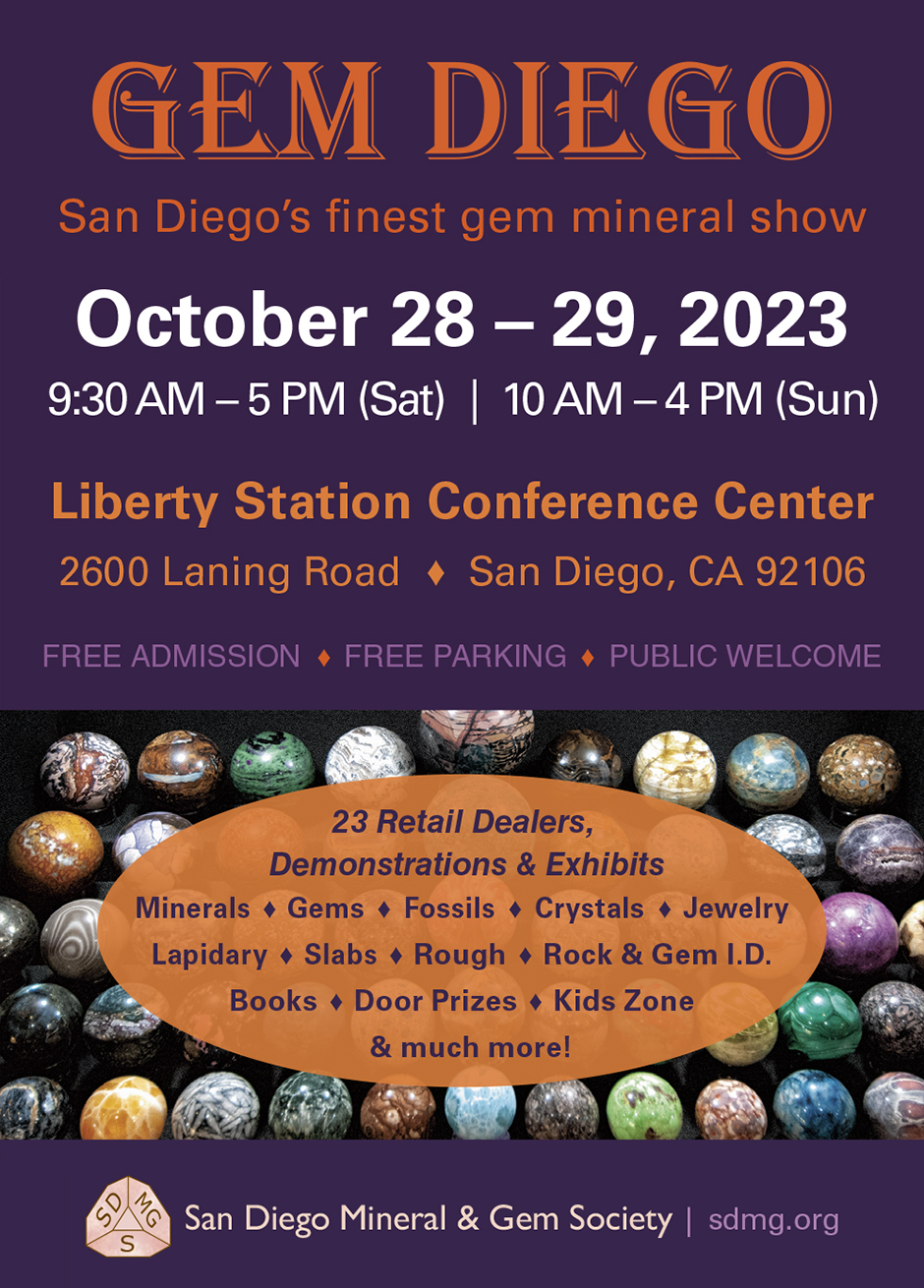 VOLUNTEERS NEEDED!
Haulers
Skirting crew
Security
Selling staff
Exhibitors
Demonstrators
And more!
Volunteer Sign Up
To set up a show of this magnitude, SDMG will need many volunteers. Look for sign-up sheets in the casting room at the SDMG building. Alternatively, you can email the Gem Diego Chair. Download a flyer for more information on Volunteering»
Vendor Sign Up
If you are interested in participating as a Vendor, email the Gem Diego Chair.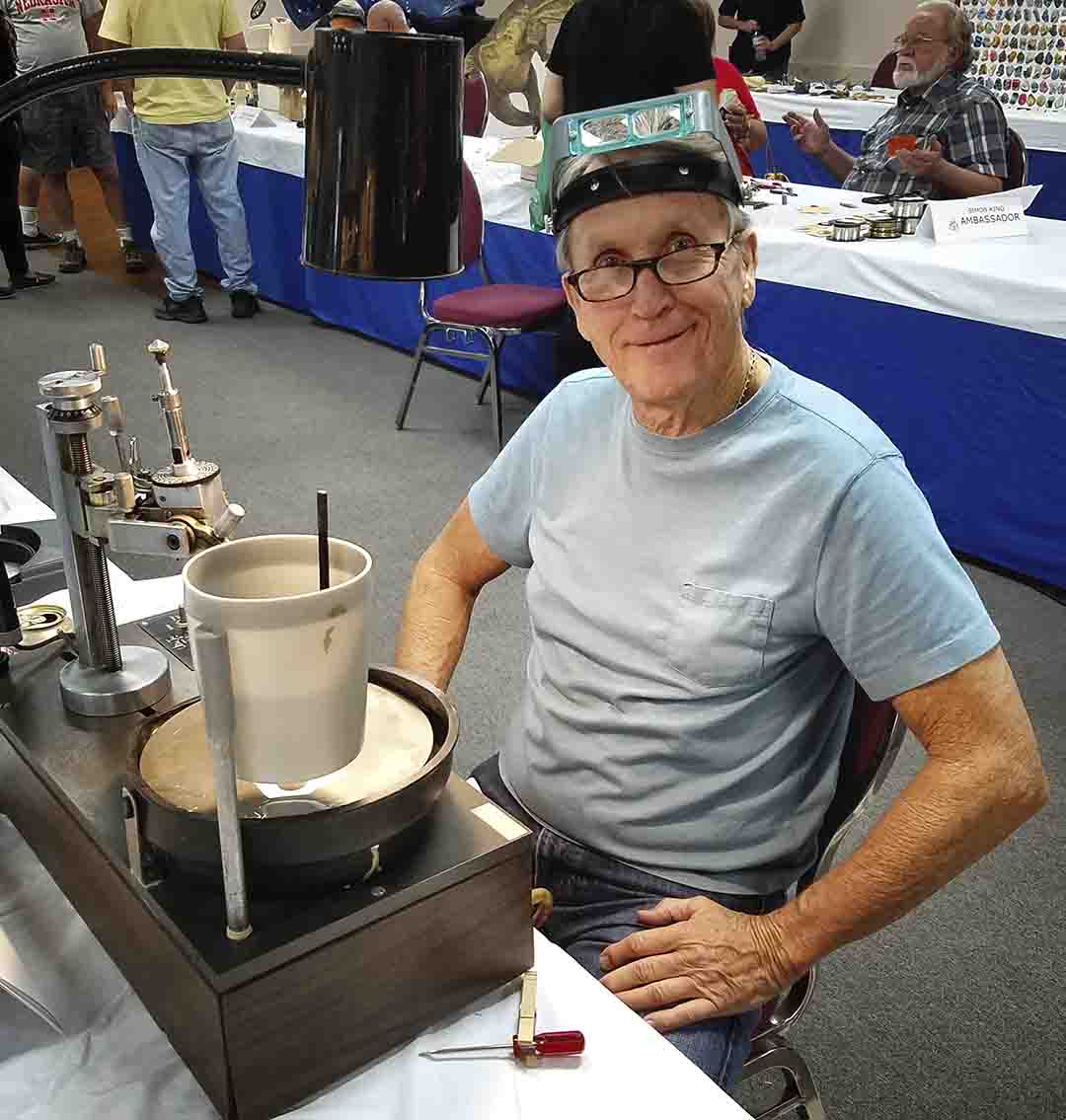 Calling On Our Talented Members
to be Demonstrators
If you have the know-how to make Wire Wrapping, Faceting, Lost Wax Casting, Silver Chain Making, Intarsia, Chasing and Repoussé, or Sphere Making, please consider volunteering to demonstrate your skills at Gem Diego. Please email Yvonne Juarez.
Exhibitors
We have a few exhibit spaces still available for your displays. You do not have to be a member of SDMG to participate, and exhibiting is free of charge, but commercial promotion is not allowed.
Download an Application Form at: https://bit.ly/gd2023exhapp
1.) Fill out the app and sign it
2.) e-mail or s-mail it (postmarked no later than Sept 30; don't forget the stamp!)
(See instructions on the form)
The Jaguar Trophy Award,
Door Prizes, and Grand Prize Raffle
This year, SDMG President Dave Smith will present the Jaguar Trophy and Pin on Sunday, October 29, 2023 at 2:00pm. This special trophy is awarded to the person whose exhibit is judged best overall. The criteria requires that the winner personally will have made everything in their case. Following the Jaguar Trophy Award, the Exhibitors Chair Nancy Arthur–McGehee will present the People's Choice Awards for the best three showcases. Nancy will pass the baton to Door Prizes Chair Terry Thomas, who will start drawing tickets for the many Door Prizes waiting to be claimed. The day will end with the drawing for the Grand Prize Raffle, a large Amethyst Cathedral donated by SDMG President Dave Smith.
Winners do not have to be present to win, but please note that it's important to put your name and phone number on your ticket. If you plan to buy a lot of tickets, you can write your complete contact information once on a master list and then just write your full name (as it appears on the master list) on each ticket. If you're not present at the drawings on Sunday afternoon, winning ticket holders will be notified the following week to pick up their items from The Village Silversmiths located at:
1770 Village Place, 92101
in the SDMG building, adjacent to Spanish Village in Balboa Park
open daily 11am – 4pm