San Diego County Fair 2015 - SDMG's award-winning student faceters

San Diego County Fair 2015 –
SDMG's award-winning student faceters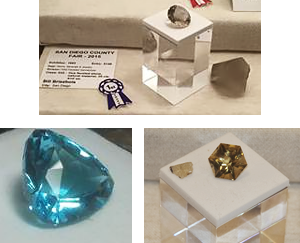 Bill Brisebois' three First Place entries include quartz from the Pala Chief Mine (top), a 24.55 carat "Swill Blue Topaz" (bottom left), and a Brazilian citrine (bottom right).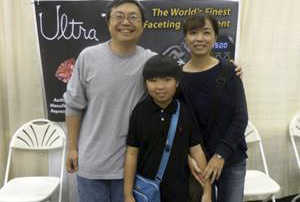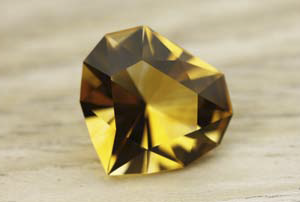 Kevin Yeh and Family (top), and Kevin's First Place entry (bottom): a simple heart designed by Jeff Graham, carved from Brazilian citrine, 12.65ct.
STUDENT FACETERS BILL BRISEBOIS and KEVIN YEH were profiled in the Ultra-Tec newsletter for their award-winning stones at the 2015 San Diego County Fair. The recent article is re-published below with pictures courtesy of Ultra-Tec. Hearty congratulations to Bill and Kevin.
Bill Brisebois' Hat Trick!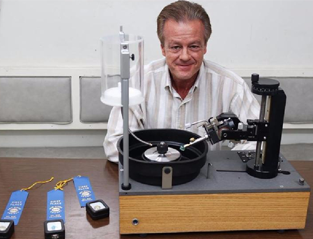 When a soccer player has a particularly good day and manages to score three goals, he gets special recognition – the accomplishment is called a "Hat Trick."
Well, Bill Brisebois deserves that sort of special recognition – having received three (!) First Place gem cutting awards at the San Diego County Fair. A faceting Hat Trick! To add another "three" into the mix, Bill has been faceting for only three years. A self-taught faceter, Bill is enthusiastic about his faceting, and he writes: "…I really appreciate the workhorse that the Ultra Tec truly is, and I am very happy with the results that I get from it.…" and, Bill also offers thanks to "…those who have contributed designs online to share with the faceting community. The winning stones (shown below) having been designs by Marco Voltolini and Arya Akhavan."
Congratulations, Bill!
Kevin Yeh – Elegant Obsession
Kevin Yeh became an ULTRA TEC cutter earlier this year, and his Classic Cutting techniques have been going from strength to strength. So much so that he recently won the 'Best Single Faceted Gemstone of Natural Material' award at the San Diego County Fair. We could go on longer… but instead, why not take a look at Kevin's Video Report from his trip to the Fair.
You can see much more of Kevin's work at his YOUTUBE Channel.