San Diego Mineral & Gem Society Museum

Selected Specimens in the Collection
of the San Diego Mineral & Gem Society Museum
The goal of the San Diego Mineral and Gem Societies' Museum is to help people gain a better understanding and appreciation of minerals, gems, fossils and the lapidary arts. Our museum is located in the San Diego Mineral & Gem Society building adjacent to the Spanish Village Art Center at Balboa Park, San Diego, California. The Museum features many fine mineral, gem, lapidary and fossil specimens from around the world. The collection has been assembled over the last 75 years through purchases and donations. Admission to the Museum is free.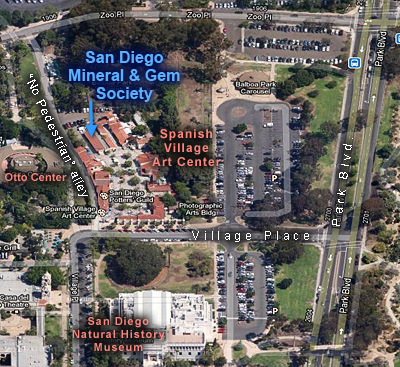 The San Diego Mineral & Gem Society building is located at the northwest corner of Spanish Village in Balboa Park, between the San Diego Zoo to the north and the Natural History Museum to the south. Access from Village Place. (Note: the road between Otto Center and Spanish Village is an alley, signage: "no pedestrians").
1770 Village Pl.
Balboa Park
San Diego, CA 92101
Admission: Free
SDMG Museum hours: 11:00am to 4:00pm
Get directions to Spanish Village »
Did you know? The San Diego Mineral & Gem Society building was built in 1935 for the second California Pacific International Exposition, and the Society has existed since 1934. During World War II, the United States Army used the buildings in this area for temporary barracks. This historic landmark is situated next to the Spanish Village Art Center in Balboa Park, a lush setting that is home to 17 other museums, 9 performing arts venues, 19 thematic gardens, 12 restaurants, 16 recreational facilities and play areas, 65 miles of riding and bike trails, and 9 major attractions, including the world-famous San Diego Zoo.
Plan a whole day to visit the many attractions and venues in Balboa Park when you visit the San Diego Mineral & Gem Society Museum. View Balboa Park maps »