San Diego Gem & Mineral Society Contact Information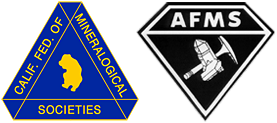 Member of:
the California Federation of Mineralogical Societies
the American Federation of Mineralogical Societies
San Diego Mineral & Gem Society, Inc.
1770 Village Place
Balboa Park
San Diego, CA 92101
Phone: 619-239-8812
eMail: info@sdmg.org
Admission: Free
SDMG Museum hours: 11:00am to 4:00pm
How to Find Us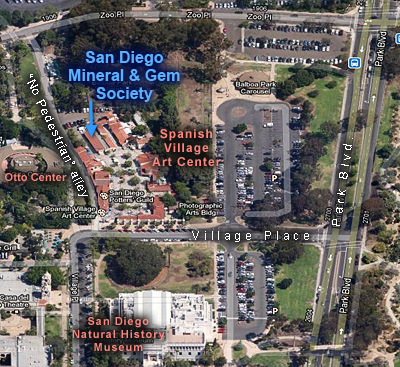 The San Diego Mineral & Gem Society is located at the northwest corner of the Spanish Village Art Center, in Balboa Park, between the San Diego Zoo to the north and the San Diego Natural History Museum to the south. Access from Village Place. (Note: the road between Otto Center and Spanish Village is an alley, signage: "no pedestrians").
Get directions to the San Diego Mineral and Gem Society»
Please click here to Sign Up for our Free e-Newsletter
To report a trouble, please email us at: info@sdmg.org
In order to troubleshoot a problem, please include the following information in your message:
Browser and version (ex.: Firefox 14, IE 9)
Browser and version (ex.: Firefox 14, IE 9)
Operating system/device (ex.: Windows 10, iPhone 6)
Copy and paste a specific error message displaying in the page
List any steps leading to the error (ex.: I input my name into a form field and clicked "send" and the page refreshed with an error message)
Did you sign up for the eNewsletter and you're not receiving it? It is sent around the first of the month, September through June. Some Internet Service Providers (ISPs) like cox and earthlink block bulk mailers like Constant Contact, so be sure to add us to your safe sender's list in your email account. You need to whitelist three things inside your email account:
@sdmg.org
@constantcontact.com
info@sdmg.org
Click here to download detailed instructions (courtesy of constantcontact.com 6/19/2013)