CLASSES – SAN DIEGO MINERAL & GEM SOCIETY

General Information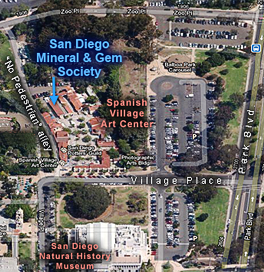 The San Diego Mineral & Gem Society offer its members a range of classes in lapidary and jewelry arts, as well as mineralogy. Classes may change from term to term, depending upon the time of year and the availability of instructors. Our students' work often wins prizes of excellence in competitions such as the San Diego County Fair and other venues. Tour the SDMG classroom.
Schedule of Classes. The new school year usually starts in mid-September. Classes are held until approximately the middle of June. Summer classes are offered by some instructors, while other instructors may take part or all of the summer off. Each class session is held weekly on the date shown on the published schedule. View print-friendly list of classes offered currently.
Class Location. All classes are held in the workshop and/or classroom of the SDMG building in Spanish Village in Balboa Park. View map of SDMG Bldg. location.
Class Fees. $5.00 per class for Adult Members, and $1.00 per class for Juniors.
Class sessions range from 2 to 6 hours. Fees are the same for all classes per session.
Additional Costs. In some classes there may be additional fees for materials kits or supplies provided by the instructor (See the individual classes). Also, although SMDG provides the larger more expensive tooling and most basic smaller tools, in some classes, students may want to acquire their own specialized tools or materials to cut. In general, students should expect to spend some additional money for tools, materials and supplies in addition to their basic class fees.
Contact SDMG about enrollment. Email SDMG to inquire about specific requirements and space availability in the class you wish to attend. Usually, several classes are full, with waiting lists for students who wish to get into those classes. In your email, include the class, day and time you would like to attend, and include your contact information (email and phone) and best time to call you.
SDMG Class Prerequisites
SDMG membership required.

All prospective students must be members in good standing with the Society.


Not a member?

Download a membership application and send it to the membership secretary with your check (mailing address is on the app).

Question?

Contact the membership secretary.

Juniors.

Members age 17 and under are welcome to take Junior Division classes held on Saturdays. Students 11 years of age and under may enroll subject to instructor approval after an interview and visit to the class accompanied by the student's parents. See Juniors' class description below.
All students must agree to the School Rules in order to take

SDMG

classes and use the facilities. School rules are also posted in the workshop.
A class in cutting stone cabochons is a prerequisite for admission to all other classes offered by the Society. The cabochon class provides the basic lapidary skills needed for success in the other classes. Several Cabochon classes are offered weekdays and evenings.
Introductory classes are prerequisites for some advanced classes, including Advanced Cabochons, Advanced Silver Fabrication and Enameling. This requirement may be waived if students can demonstrate to the instructor that they have adequate basic skills from prior training or experience. Exceptions to prerequisite classes will be made on a case-by-case basis.
The Silver Fabrication class is a prerequisite for the Casting and Enameling classes.
Instructors' Statement
As with all other positions in the Society, we instructors at San Diego Mineral & Gem Society serve as unpaid volunteers. While we are, therefore, "amateurs" in a strict sense, most of us are professional in our skill level and in the approach we take to instruction, especially regarding your safety. Most of us have quite a few years of experience in the subjects we teach. Some of us started by taking classes right here at SDMG. We come from various walks of life and have a range of academic and life experiences. Some of us work full-time at other jobs; some of us are retired from other or related fields. All of us teach because of a love of our art and our pleasure at sharing what we know with others, like you. We do not teach at SDMG to make a living; we do it because it is fun, creative, social and it often satisfies something deep inside.
Classes
Download a print-friendly class schedule
Class Descriptions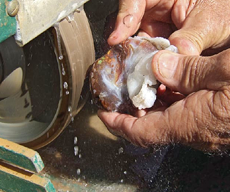 Cabochon Cutting & Polishing is considered the most important course in lapidary crafts, because this is where students learn the process of shaping and polishing a cabochon. SDMG has a large, well-equipped shop, and our instructors will teach you everything you need to known in order to cut and polish beautiful cabochons. Starting material is available in the shop, and students can quickly find local supplies (stores, shows, fellow students) for obtaining material from modest to magnificent. Advanced cutters may be interested in L.D. Hughes' book on cutting Fire Agate
Cab classes are prerequisites for ALL other classes offered by the Society. Classes are offered at both the beginning and advanced level by several different instructors. The general class offers basic, hands-on workshop skills in lapidary arts. The primary objective is learning to cut stone cabochon gemstones (gems that have a smooth, curved, highly shiny surface, without facets, that reflect the light). Large, rough material can be slabbed for students on the class 18- and 22-inch diamond saws, and students can then cut their slabs into smaller, usable pieces on the 10-inch diamond bladed trim saws. They will learn to use wax to put a slice of stone on a stick and hold up the "dopped" stone for grinding and successively finer sanding and polishing wheels in order to shape and smooth the final gemstone into something that can be set successfully into a piece of jewelry. Along the way, students will learn about different types of rocks and minerals and how to obtain and select materials for cutting. The first cabochon usually will be made out of obsidian provided by the class. Thereafter, students will need to provide their own cutting materials, which can be obtained from fellow students, field trip collecting, or purchased at the various club functions such as the annual Spring picnic and Gem Diego Show, as well as other sources.
Faceting is the art of cutting gemstones with angled flat surfaces for setting in jewelry In contrast to a cabochon, which has a smooth, curved surface that reflects light, a faceted stone is cut with precisely-angled flat planes, or facets, which are oriented to allow light to enter the stone at critical angles and then be refracted so that the light bounces back out of the top of the stone to create lively color and brilliant plays of light, or dispersion. This is the most common type of stone sold in jewelry stores. Gemstones with high public recognition, including diamonds, sapphires, rubies and emeralds, as well as non-traditional stones, are often faceted.
In our classes, students learn how to rough-cut (pre-form) gem materials using diamond saws, mount them on special dops in a faceting machine, and then cut and polish the precisely arranged facets around the top and bottom of the stone. Most instructors teach the "meet-point faceting" technique. Rotating laps (diamond and/or oxide-charged disks) of successively finer grits are used to grind and polish the facets. In general, beginners will cut a "round brilliant" shape from clear quartz as their first stone. Later, with experience, they can cut many other, sometimes quite valuable materials in a myriad of basic and fancy cuts. (Note: SDMG cannot cut diamonds on its equipment.)
Silver Fabrication & Casting. After finished polishing of a beautiful stone, many students want to go on and set their stone as a unique piece of custom-made jewelry. SDMG offers a variety of classes in precious metal work, including Beginning Silver Fabrication, Silver Fabrication, and Advanced Silver Fabrication. The Society also offers classes in Casting silver and gold. More classes are offered in these subject areas than any other topic. Due to limited space, classes are limited to 6–7 students per session.
Beginning Silver Fabrication classes offer specialized instruction for beginners. After students obtain the basic skills by the end of June, they are asked to give up their space for at least one year, so that the next group can start in the Fall session.
Silver Fabrication classes are offered as open studios for folks with some experience, with the instructor available to offer some help, if requested. Students with basic skills can refine those skills and work on their own projects.
Advanced Silver Fabrication provides a rotating list of specialized topics taught as formal presentations and as collaborative explorations (depending upon the topic) with the instructor.
Casting instructors teach wax carving of models, investing/burn-out, spin-casting, mold making and finishing of pieces. The class structure is fairly informal.
The silver room and casting room are supplied with most major equipment (torches, rolling mill, flexible shaft machines, soldering equipment, casting and vacuum investing machines, etc.). A basic hand-tool kit is available for both silver and casting disciplines. In silver classes, students are encouraged to acquire and bring a personal hand-tool kit (est. cost $100.00). Students are expected to supply their own silver or other precious metals. Consumables such as mold rubber, investment, sand paper, flex shaft polishing wheels are available for purchase.
Enameling is the art of applying colored glasses to metal, usually copper or silver. Essentially, it is a way to add vibrant colors and textures to metal. This subject is taught on an intermittent basis at SDMG as instructors and class space allow. It is not offered during the Fall/Winter 2013 term. In this class, basic champlevé technique is taught. Troughs or cells are created on a metal surface and then filled with powdered glass frit. The piece is heated in a kiln until the glass melts and fuses to the metal.
Wire Wrapping is the art of creating jewelry by capturing one or more objects (cabochons, other stones, beads or found objects) using wire to secure and frame it. Wire of various gauges can be silver (or even gold), but often is copper in beginning classes. It takes strong hands and a facility with specialized pliers. Beginning students may use the Society's sets of pliers and can purchase wire and other materials until they acquire their own personal tools and supplies.
Rock Carving is the art of taking a piece of stone and using a variety of tools to carve, chisel, smooth and polish it into a realistic or abstract 3-D shape. Most work uses a flexible shaft machine to spin a host of small diamond and other carving and polishing tools. The piece must be kept wet in order to eliminate dust and keep the tools cool. Part of the class is devoted to the creation of a wet carving station. Beginners start out shaping a peanut (complete with textured shell). The second project is "the leaf," a flat-back, carved-front relief piece. Thereafter, students can work on projects of their own choice. All instruction is done in the studio without formal lectures.
Sphere Making is the art of carving large or small balls out of stone. To make stone spheres, blocks of stone are pre-formed into a cube on diamond bladed saws, then the corners are cut off, and, finally the high nubs are ground down on a grinder. Then, the pre-form is placed in a sphere machine comprised of two or three grinding cups charged with either diamond or silicon carbide. The cups are spun by low-RPM gear motors and the pre-form is wetted with a continual supply of dripped water and silicon carbide (unless diamond is being used). Finer and finer grits are used to sand and shape the pieces, and finished with polishing the stone. Students in this class have access to several sphere-making machines and the grinding and polishing equipment of the lapidary studio.
Descriptive Mineralogy teaches students how to identify a mineral specimen using basic hand-sample techniques and observations that can be applied in the field. Class will include training on physical property testing techniques, observation of physical and optical characteristics, crystallography and chemical classes of mineral species, as well as use of determinative tables, and mineral occurrence and association in rocks.
Each chemical class will be discussed, and the Silicate minerals will be discussed in further detail according to the classification system by Strunz. Mineral specimens for the SDMG teaching collection and the Instructor's own collection will be available in every class to perform property testing or illustrate physical features.
Basic testing tools and the class textbook will be provided.
This class will be offered in the Fall session starting in September 2016.
Junior Division. SDMG Members aged 17 and under can sign up for the Juniors class. Like the adult Society Members, all new students need to learn basic lapidary skills first. See the description of the cabochon classes above. Students must be tall enough to stand at the grinding and polishing machines. After the basic lapidary skills have been learned, some students can move into other skills during the class. Beginning soldering torch work, wire wrapping and other skills are taught, depending upon class interest and student abilities.
The class sponsors one of the General Meetings each year. The Junior Division also goes on special field trips to mines and other venues, staffs a booth at the annual Gem Diego Show, and enters an exhibit at the San Diego County Fair to show off its work.
Special requirements and recommendations. Youngsters under 12 should first attend a class with their parents to check it out and have an interview with the instructor. Contact us to arrange an appointment.
Tour the Classroom