SDMG MEMBERSHIP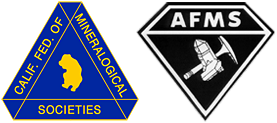 SDMG is a member of the California Federation of Mineralogical Societies and the American Federation of Mineralogical Societies
SDMG's Mission
The San Diego Mineral and Gem Society exists to help people increase their understanding and appreciation of gems, minerals, fossils and the lapidary arts. In order to fulfill that mission, the Society offers classes, field trips, lectures and special programs and events for a variety of interests. The Society also sponsors a Scholarship Fund and operates a gem, mineral and fossil museum, which is located at the northwest corner of the Spanish Village Art Center at Balboa Park, San Diego, California. The Museum features fine specimens collected through purchases and donations. The SDMG Museum is open 7 days a week and is free to the public. For more information about it, please visit the SDMG Museum page.
General Membership Information
Membership in SDMG allows you to take part in all Society activities, including classes held in our building adjacent to the Spanish Village Art Center at Balboa Park. Members also receive our information-packed bulletin, The Pegmatite, every month (except July and August). In 2012, The Pegmatite went digital featuring full-color content in a print-friendly format available to members online.
Membership Dues
Adult membership is $30.00 per year.
Additional Adults from the same household can join for $10.00/yr. for each membership (they will not receive

The Pegmatite

).
Juniors (under age 18) can join the Society for $10.00/yr.
Download a print-friendly Membership Application. For other membership questions, contact our Membership Secretary or stop by the Village Silversmiths, located in our building at 1770 Village Place, San Diego, California.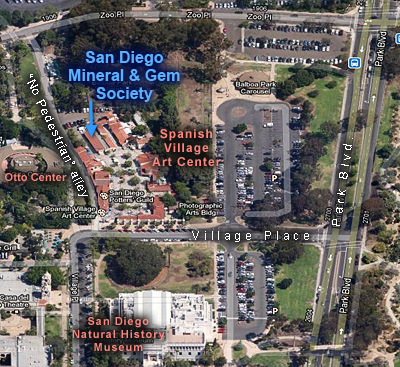 The San Diego Mineral & Gem Society is located at the northwest corner of the Spanish Village Art Center, in Balboa Park, between the San Diego Zoo to the north and the San Diego Natural History Museum to the south. Access from Village Place. (Note: the road between Otto Center and Spanish Village is an alley, signage: "no pedestrians").
1770 Village Place, Balboa Park
San Diego, CA 92101
Admission: Free
SDMG Museum hours: 11:00am to 4:00pm